Honoring Black Voices Today and Always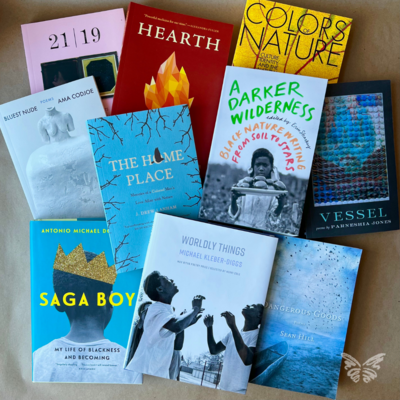 As Black History Month officially comes to a close, there's a mixture of feelings clinging to the air. For all the symbolism and meaning that's been supposedly infused into the whirlwind 28 days of February, there's no denying the thin line straddling homage and gratuitous symbolism. For every well-meaning hashtag on social media used to call attention to an impossibly vast history, some corporation somewhere is transforming their Call-to-Action statement into an opportunity for folx to buy merch that's "trending." Or maybe they don't have a call-to-action statement at all, and they've done all the work they'd care to with a gesticulatory diversity and inclusion message that will let them slide off the hook for another year. Still, to alienate those who are motivated by the passage of time, the changing of seasons, months marked by their respective causes and their invitations to participate in an ever-growing conversation would be to alienate possibilities for new connections to be made between those who have worked to inspire change and those who are ready to roll up their sleeves and join them at the table.
How best, then, to approach the topic of Black History Month? And the weighted nuance of a collective history that, as we speak, is being erased from our school syllabi, banned from our libraries, and minimized in the public discourse? As Black histories are continually whitewashed, and Black stories are continually suppressed, countless more Black lives are still being threatened and extinguished with devastating frequency. But to dwell only on this facet of Black history is profoundly unjust—it casts the wide joys, traditions, accomplishments, and contributions of people of color in a shadow marked only by tragedy. It douses the "color" within BIPOC in a crude, unforgiving grayscale of black-and-white trauma. It solidifies a perpetual cycle of oppressorship and victimhood—it condenses the lessons and messages of many peoples into a month-long crash course, with a decided beginning and end date: a period of study and mourning, an obligatory moment of silence before we return to our scheduled programming. How best to break this silence? To restore vibrance to our collective understandings of Blackness, to find meaningful opportunities to point to Black stories not just as examples of tragedy and throughout the month of February, but always, for anything? To answer these questions, and to find hope, wisdom, and new beginnings, I turn to books. I turn to the change-seeding words of Black poets and writers such as the ones you'll find below. I hope you'll be inspired to do the same on your own journey towards meaningful change ahead, and I hope you'll find, as I have, that yours is a journey full of reading and learning about stories like these, without a decided end.
A Darker Wilderness: Black Nature Writing from Soil to Stars, edited by Erin Sharkey
I'm beginning my list of recommended reads with one of our most anticipated titles of the new year. For those who believe the archive is stagnant: I beseech you to sit with this anthology, which profoundly demonstrates how an archive is generative; an archive is memory; an archive is a capsuled message to our future selves that we will so desperately need in those moments when we've all but forgotten what matters most to us. An archive is a living testament to our existence, and the proof is in the print.
Take contributor Naima Penniman's 10 prescriptions for living in and protecting the planet, for example, from her essay, "Concentric Memory:"
1. Transformation is inevitable.

2. Adaptation is essential.

3. Everything we need is here.

4. We are stronger together.

5. Darkness is teeming with creation.

6. Nothing, and no one, is disposable.

7. Every member is intrinsic to the whole.

8. Every stage is intrinsic to the cycle.

9. Regeneration is the natural order of existence.

10. Death is not only a part of life; it is integral to living.
Bluest Nude, by Ama Codjoe (2023 Guggenheim Poet-in-Residence, NAACP Image Award finalist):
If you're looking to fall in love with the tender, intersectional nuances of Black and feminine identities, I'll ask you to stop here. Ama Codjoe's Bluest Nude is a singularly striking collection of poems that—literally and figuratively—strips down our collective notions of loving, losing, (Black) womanhood, bodily inhabitance, and divine sensuality. Codjoe's words are a hymn for the mundane, making vulnerable and sacred the everyday acts of grazing one's hair, or a spiderweb, or beholding a lover's gaze, or observing one's own nakedness. Codjoe's words are an invitation to disrobe your own expectations, and to meet your own image anew.
From the poem, "Primordial Mirror:"
I was newly naked: aware of myself

as a separate self, distinct from dirt and bone.

 

I had not hands enough

and so, finally, uncrossed my arms.

 

In trying to examine one body part,

I'd lose sight of another. I couldn't

 

imagine what I looked like during

the fractured angles of sex.

 

At the river's edge, it was impossible

to see all of myself at once.

 

I began to understand nakedness

as a feeling.

 

It was a snake, loose and green;

it was the snake skin, coiled and discarded.

 

The shedding chained itself

like a balloon ribboned to a child's wrist.

 

Morning's birdsong reminded me

of the sloughing off of skin.

 

The rumored beauty of my husband's first

wife never bothered me before.

 

I missed the sensation of being fixed

in amber. Then the hair in the comb,

 

Fingernail clippings, the red mole on my

left breast grown suddenly bigger.

 

I perceived my likeness in everything:

the lines on my palm as the veins

 

of a leaf, my mind as a swarm of flies

humming over something sugary or dead,

 

my vulnerability as the buck

I'd kill, then wrap myself inside,

 

my hair as switchgrass, twine, and nest,

a roving cloud my every limb.
Worldly Things by Michael Kleber-Diggs (Winner of the 2020 Max Ritvo Poetry Prize)
Years ago, children imagined a future chock full of flying cars and reanimated dinosaurs. Many of today's children dare to imagine a future where people who look, feel, and think like them are visible in their favorite tv shows, are the main characters of their favorite books. Michael Kleber-Diggs' Worldly Things is an answer to that wish for many. He is a poet, but he is also a father, a friend, a small-town local. His words are a salve for aching hearts in the face of rampant social injustice, and then, they are a voice of reason during driving lessons with his daughter. Then again, they embody the voice of an ordinary person with a restless mind—watching YouTube from a cellphone while walking his dog. But children aren't the only ones still dreaming of the future. In a poem, "Ars Poetica," Diggs dreams of the separation between neighbors. And in the poem below, he dreams the hopeful conclusion of that separation one day dissipating.
From the poem, "After They Left:"
We policed ourselves, restored our spirits

in quiet tasks until the earth ran red

with iron and sweat. We called old seeds

from the cavernous cold to rejoin them

with the heartsick soil, then tended our crops

by hand. Every day everyone bent down

on knees to pull the weeds away.

Pests took their part but left plenty.

Each harvest, the village gathered together.

To each a share. For all it had suffered

our body stayed whole. Trauma dissipated.

Where our wounds were acute, we applied

more salve, calling our injured closer in, as we

sang to them and gave them more fruit.
The Home Place; Memoirs of a Colored Man's Love Affair with Nature by J. Drew Lanham (2022 MacArthur Genius Grant Winner)
In his moving memoir, Lanham explores identity, place, and home through the lens of a Black birder, conservationist, and nature lover born and raised in the rural South; if you "wander and love the land," and are seeking a new middle ground where science and poetic prose meet in praise of birds and other wildlife, this book will electrify you anew.
"This is a memoir, then, but it is also the story of an ecosystem—of some land, the lives lived on it, and the dreams that unfolded there. It is a tale of an in-between place and its in-between people. And I tell it with a sense of responsibility. I believe the best way to begin reconnecting humanity's heart, mind, and soul to nature is for us to share our individual stories. This is my contribution to that greater mission; sometimes the words that make the fragmented more whole need to come from someone in different skin. Beyond that, however, I simply hope those words inspire you, too, to see yourself colored in nature's hues."
Dangerous Goods by Sean Hill (Winner of the Minnesota Book Award)
In his striking and poignant collection of poems, Hill explores nuanced relationships to Black history, freedom, and home across countless shores—from the Bahamas, to London, to Liberia, to Cairo, to Bemidji, MN, and Milledgeville, GA—in postcards, love letters, elegies and more. If you are seeking to interrogate fraught and mending histories, exile and return in verse, and other kinds of longing held within the capacious container of a Black life, look no further.
From the poem, "VOICES IN ST. PAUL'S CATHEDRAL for Geddes Thomas"
Christopher Wren designed it from base to dome—

built in the 17th & 18th centuries,

declared complete about ninety years after

the first twenty were brought to Jamestown.

 

Alone in the Whispering Gallery

I lean to the ear of no one to my left—

Can you hear me?

 

A voice, my father's,

his father's, comes from the right—

Can you hear me?

 

I've brought voices here with me;

They linger the way odors do.

A friend who visited the citadel at Gorée Island said

you can smell death left over from the days of the trade.
The Colors of Nature; Culture, Identity and the Natural World, edited by Alison Hawthorne Deming and Lauret Savoy
Just as we began this deep dive of Black literature with an impactful anthology, so too, will we end with another incredible constellation of Black voices writing on living, loving, and being in our more-than-human world. In Colors of Nature, Deming, Savoy, and their contributors draw crucial connections between the systems responsible for climate change and our dwindling biodiversity, and the systems that marginalize Black and brown existences everywhere. In their resistance of the largely monochromatic tradition of American nature writing, and of the mainstream environmental movement, we find bold infusions of testament, poetry, and prose by large swathes of writers calling countless spaces home. This multicultural tapestry of "place" and roots is a rebellious love song that should be sung widely; it is undeniable proof of our collective belonging in the more-than-human world.
From contributor Jamaica Kincaid's "In History:"
"What to call the thing that happened to me and all who look like me? Should I call it history? If so, what should history mean to someone like me? Should it be an idea, should it be an open wound and each breath I take in and expel healing and opening the wind again and again, over and over, or is it a moment that began in 1492 and has come to no end yet? Is it a collection of facts, all true and precise details, what should I do, how should I feel, where should I place myself? Why should I be obsessed with all these questions?"
–
Please join us in solidarity and celebration of the lived experiences and ancestral wisdom of Black voices today and every day; find our full list of Milkweed works written by Black authors here.