Bookseller Recommendations: December
Hello friends, and welcome back to Bookseller Recommendations! This is a time of year defined by joy and merriment, and you'd think that theme would show up in the books we've been reading over at Milkweed … but somehow, by some strange concidence, we seem to have collectively veered more towards haunting than holly-and-jolly this month. In many ways, this seems fitting—why not close a particularly difficult year with monsters and memoirs? Read on for some excellent gift ideas for the book lover on your holiday shopping list—or yourself!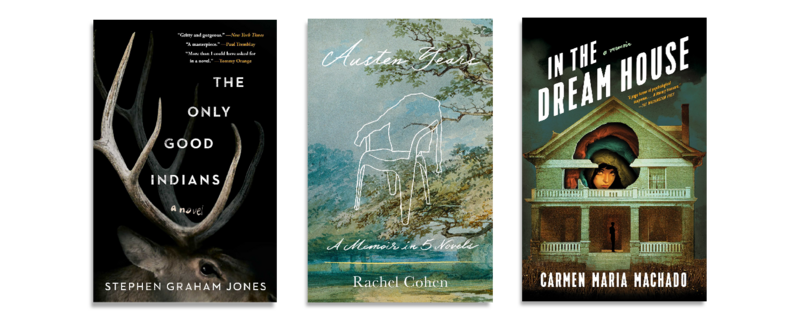 BAILEY
The Only Good Indians
by Stephen Graham Jones
Gallery / Saga Press | July 2020 | $26.99

Generally speaking, I'm not much for horror—but oh, I don't know, there's just something about this year that's made me find more catharsis than usual in the genre. Stephen Graham Jones is a master of terror, be it in candid references to the genocide of Indigenous Americans by white colonizers, in or the actual shape shifting nightmare creature that haunts the pages of this book. Jones's characters are so compelling and particular: Lewis, Peta, Gabe, Denorah, Cas, and the rest felt so real to me—as do the fates that befall them. Deeply creepy and richly descriptive, this novel-in-connected-stories will chill you to your core. (And if you really want to freak yourself out, try reading this book the way I did: as an audiobook on a 13 hour drive through the rural midwest in the middle of the night.)

CLAIRE
Austen Years: A Memoir in 5 Novels
by Rachel Cohen
FSG | July 2020 | $28.00

I know what you're thinking: another book about Jane Austen? But this one is so thoughtful, and so beautifully written, that it stands out from the many I've read (and I've read a lot of Austen and Austen-adjacent books). Rachel Cohen writes about a period of her life marked by endings and beginnings—the death of her father, her marriage, the birth of her children—and wonders why Austen became her sole reading companion during those formative years. Comparing her own obsession to others', she describes the open space that Austen creates for her readers, a space they fill with their own lives and imaginations. Perhaps this explains her enduring influence; when people think about Jane Austen's novels, they can't help but associate them with memories from their particular pasts. A rich and perceptive memoir, Austen Years is a brilliant reminder that re-reading holds many rewards.

JOEY
In the Dream House: A Memoir
by Carmen Maria Machado
Graywolf Press | November 2019 | $16.00

Last November, just a couple of months after I moved to Pennsylvania, I attended Carmen Maria Machado's launch for this book at the Free Library of Philadelphia. It was a great evening, one of the last in-person literary events I went to before the pandemic, and yet it took me almost a year to read her book. I'm so glad I did. This is a book that unfolds and unfolds, tucked full of surprises in service to finding the right way to tell a painful story. For someone who loves form, like me, the book was a pleasure, and it will keep the memory of in-person events alive for me until we can safely enjoy them together again.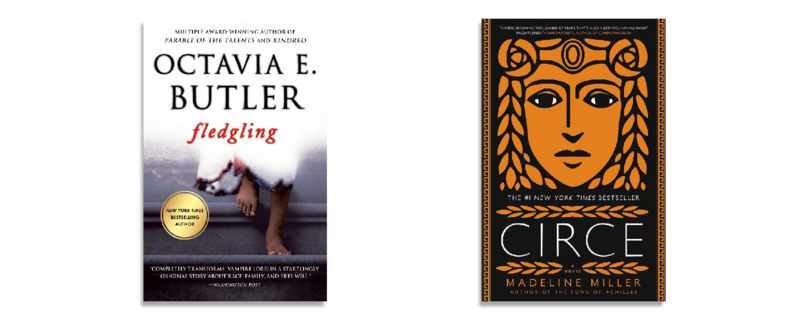 LEE
Fledgling
by Octavia E. Butler
Grand Central Publishing | October 2005 | $16.99

I finally came around to reading Octavia Butler's novels this year because of adrienne maree brown's declaration that science fiction is a way for us to practice the future together. When Butler writes a novel about vampires, it's about the ways that people (and non-humans) depend on each other for support, safety, and love. Fledgling is a guidebook for building communities of care where strengths and vulnerabilities are respected equally. The fact that the protagonist is a seemingly young, Black woman persecuted by race purists makes the novel all the more relevant.

YANNA
Circe
by Madeline Miller
Little, Brown and Company | April 2018 | $16.99

I fell in deep, rapturous love with Madeline Miller's Circe last month. In her novel, Miller creates a decadent, alluring, damning world of gods and goddesses, mortals and witches that felt as real as my living room. In Greek mythology and in the famous Odyssey, Circe is misunderstood, grim, witchy—one of the most remembered facets of Circe's story by writers and artists throughout centuries is her ability to turn men into animals, most famously, pigs. To this reader's mind, to think of Circe only in this way is reductive, offensive. She is a woman with dreams, sometimes unsure of herself, sometimes so powerful she surprises herself, a woman open to the beauty of the world, even in grief. Throughout the novel, gods, goddesses and nymphs we know well orbit Circe: Helios, Odysseus, Scilla, Athena, Hermes. Circe is a story of reclamation, one that's gilded my mind for the rest of my days.
---
? To see more reading suggestions from bookstore staff and from some of the bookstore's favorite authors, click here.

 ? Check out our Bookshop page for more great books!