Authors / What Matters Most / Roundup
Celebrating Earth through books & beyond
Since its inception in 1980, Milkweed Editions has built an engaged community around "transformative" literature. But in an age where language is slipperier than ever, it feels crucial to make tangible the impact and value of our stories today. This April, I'm thinking about "transformative" stories in the timely context of Earth month; I'm thinking about the ways Milkweed publishes titles that not only represent a vast range of artistic excellence and cultural diversity, but also address some of today's greatest challenges, like dwindling biodiversity and climate change. In doing so, it champions a list that boldly leads the discourse on environmental issues, paving the way for a more equitable future. It's no secret that our more-than-human world is worth cherishing and protecting all year round, but during this month especially, I find myself giving thanks to the books that have informed and enriched my perspective on how to do so while treading lightly and reflecting deeply. Keep reading to find out which Earth-loving books we're buzzing about these days, and further, how we're committed to celebrating our planet off the page, too.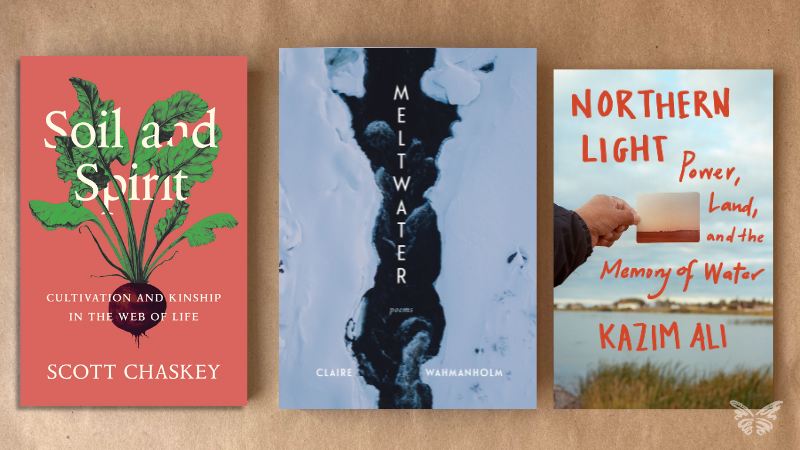 Soil & Spirit: Cultivation and Kinship in the Web of Life, by Scott Chaskey
We begin this month's roundup with one of our latest and greatest new titles: Scott Chaskey's highly anticipated SOIL AND SPIRIT. In this gorgeous collection of essays, Chaskey, a longtime farmer and lover of nature shares the wisdom he's inherited from the trees around him and the infinitely vast microbial universe in the soil beneath their roots. In rendering the microscopic visible on the page, and in praising their resilience, adaptability, variety, and more, he makes the compelling case that loving the Earth is not only acknowledging and cherishing what you can see of it, but also cultivating meaningful relationships with our living invisible neighbors. For all that is unknown, he posits, we cannot look only to the sky for answers, but also to the soil which houses "our ancestors, that are synonymous with life."
"My education most closely resembles an earthen fabric, woven together throughout decades of daily attention to soil structure (both loam and mycelium), and as a curious traveler exposed to diverse landscapes. I have learned through literature and in friendship with land. My teachers: poets, pine, oak, beech, stone, silt loam, the sharp-shinned hawk, and the windhover."
Meltwater, by Claire Wahmanholm
Memoir isn't the only form that can deliver a powerful ecological message: Claire Wahmanholm's sixth collection of poems, MELTWATER, encompasses infinity within just a few stanzas. Amidst gorgeous ruminations on new motherhood in the Anthropocene, Wahmanholm demonstrates with darkly atmospheric precision that every letter of the alphabet contains a pandemonium of seen and unseen life. While her apocalyptic visions of climate change may spell the end for creatures as common and beloved as rabbits, the voice of this collection is gorgeously balanced by what we may dare to call an unkillable force: hope.
Excerpted from the poem, "At the End We Turn Into Trees"
Then one night as we lay like rocks in our bed, the clock ticked past midnight and kept going. A hole opened in the space between my inhale and exhale, and deepened. I buried myself into my non-breath and let it close around me. Within those lung-woods, a shadow against a darker shadow, a sense of movement, an edge. A witch, mother as moss, who understood what I had come for. Not death, but a rest no mammal could arrive at with its nerves and blood, its offspring living then not. I felt the witch's hands on my calloused face, my coarsening shoulders, my heartwood spine. Then I didn't. I hadn't for hundreds of years. Beneath our heavy featherbed of soil, we are reaching toward each other. We are tangling without touching. Slow as sap, soft as thread, I am sending you the smell of her hair, her teddy bear, her sheets. You are sending her voice, crackling like lightning at one hundredth the speed. We soak in the patter of her hopping feet, which is painless as rain. We make a wet, inhuman sugar from the syllables of her name.
Northern Light: Power, Land, and the Memory of Water, by Kazim Ali
It's no easy undertaking to braid into a single text the lyricism of poetry, the exploration of a discovery narrative, the lost memories of childhood, and the murky-yet-hopeful future of an Indigenous people historically wronged by the Canadian government, but this is what Ali does in NORTHERN LIGHT. There's as much discovery to be had in what he fails to remember as what he is brought to understand when he visits the hydroelectric dam that his father helped build in one of the many places Ali once called home—only to discover that its enduring presence has been a constant threat against the sacred lifeways of his former neighbors, the Pimicikamak community. Within his search for home, and later, his quest for truth, Ali makes wise new friends, startling connections, and at last, he learns that memory itself is a kind of power: one that transcends government-enforced territory lines. Within memory are the ties to land and water that cannot be confiscated by any force: and within those ties to land and water there is hope, and there is home.
"Those who built the dam were thinking about what the river could produce, not about the whole community of plants and animals that it was the center of. They were thinking about power: water flow and wattage. How could I have thought this place was like a home to me? My mother was right: we only lived here for a few years. I had no claim to it. We didn't belong here. What is the connection between a person and the land he lives on? Then again, what government or document can legislate that stirring of belongingness born in the heart?"
For our reading list of environmental works, click here.
–
Where actions meet words
As an independent publisher that strives to lead by example, it's important that we not only elevate the important voices that will help pave the way towards a more equitable future for all, but also, that we do everything in our power to exemplify our commitment to these values within our own business practices and day-to-day lives. To this end, we're proud to share that nearly 60% of our books are printed at manufacturers using renewable energy sources and vegetable-based inks, and 85% are printed on post-consumer recycled material. And despite the additional cost, we print 100% of our titles at presses that are FSC-certified, based in North America, and ensure that any unsold stock is reused or recycled. In our offices, we've installed solar tubes to decrease the amount of time we need artificial light in a given day, and, during our most recent renovation, we used almost entirely reclaimed or recycled materials.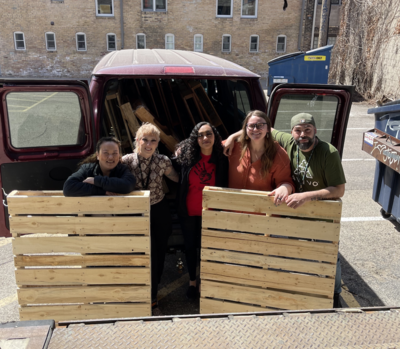 Madi and the Avivo Street Outreach Team connect in the Open Book Center parking lot for our first pallet hand-off.
Most recently, Milkweed Editions launched a partnership with Avivo, a Minnesota-based nonprofit that helps individuals and families facing poverty, homelessness, unemployment, chemical addiction or mental health concerns achieve recovery and economic stability. Thanks to the good work of Madi, our Engagement Coordinator, Shannon, our Sales & Operations Manager, and Bethany, the Open Book Building Manager, the partnership was created to address Avivo's tangible need for pallets (of which we have always had a surplus following book shipments) which will enable them to continue serving those in need. This partnership is one that we're thrilled to have and continue, with our next pickup being scheduled currently.
Milkweed Editions has proudly existed for over forty years, and we're committed to ensuring that the world is a better place to read great books forty years from now.