Deep Cuts—Sarah Ruhl and Max Ritvo's Letters from Max: A Poet, A Teacher, A Friendship
Happy December fellow readers, and welcome to another edition of Deep Cuts! In this series I have the privilege of diving in with the author of a compelling Milkweed title and discussing the behind-the-scenes work that goes into the composition and production of their book.
This month, we're highlighting Sarah Ruhl and Max Ritvo's collaborative book, Letters from Max: A Poet, A Teacher, A Friendship, which we released in paperback in September. We know this book has had an enormous impact on readers' lives. Spanning four years of Sarah's and Max's lives, Letters from Max explores illness, art, spirituality, and grief with a spirited intimacy. These brilliant, heartwarming, and funny letters between Sarah and Max written as his illness returns—a rare pediatric cancer called Ewing's sarcoma—mark the best of not only the most sacred of bonds between teacher and student, but also the best of how friendships allow us to live!
Sarah has traveled across the country to read from Letters from Max at bookstores, libraries, schools, and in people's homes, and in doing so, she has had lots of meaningful interactions with readers. We wanted to share a few reader reflections here, to celebrate and highlight a reader's relationship to bookmaking.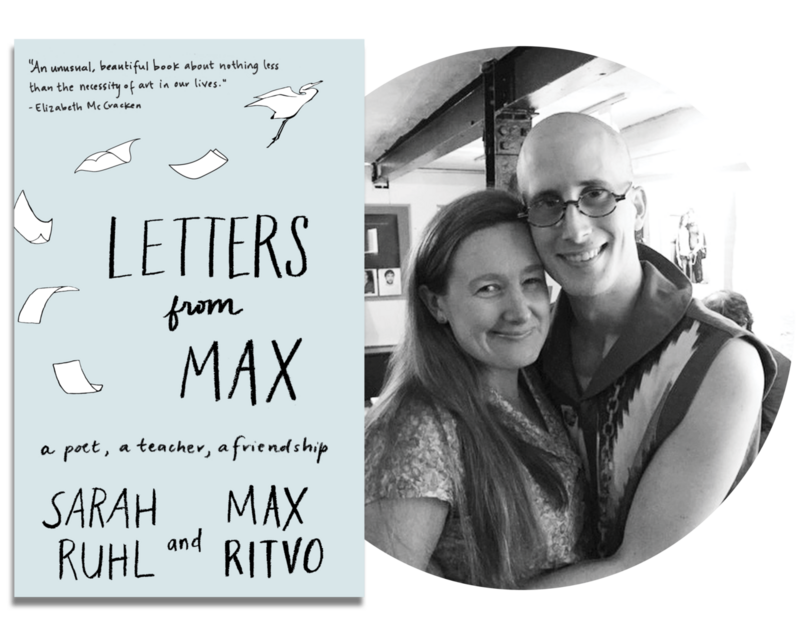 'MY WIFE STILL VISITS ME IN MY DREAMS'
"After a reading at the Society Library in New York, an older gentleman came up to me, asked if it was all right to give me a hug. He gave me a big hug and said, 'My wife still visits me in dreams.' After another reading, at a university, a young woman approached me and said she'd been having difficulty with suicidal thinking, but that reading Max's words and reflections on the afterlife gave her comfort in the here and now. And at a reading at a high school in Brooklyn, a sophomore told me that she'd lost a friend to Ewing's sarcoma. There is loss and grief all around us—and I was grateful that the book had reached these three individuals in particular, whose names I do not know." – Sarah Ruhl, Author and Playwright
'A LOVE LETTER TO POETRY, TO LANGUAGE'
"I don't know the last time I dog-eared as many pages while reading as I did to Letters from Max. There are a lot of profound lines, luminous poems in there that I will be returning to, again and again in my own thinking about the larger questions of life, love, meaning, and matters of serious theological consideration. I mean, yes, it's an engrossing journey into the growing intimacy of two brilliant minds, but it's also a love letter to poetry, to language, to the vulnerability and generosity that comes with sharing work in progress, with encouraging another to be vulnerable and generous with you. It has inspired me to be more generous with my own work, and work-in-progress, because the book itself is an act of generous sharing that invites the reader to figure out how to return the favor.
In Judaism, we study holy texts in pairs, debating their meanings with a peer or equal who forces us to better our thinking. 'Iron sharpens iron,' The Talmud (Taanit 7a) teaches. It's clear how Sarah and Max sharpened each other's thinking, writing, dreaming, and loving—but the magic of this book is that they sharpen all of ours, as well." —Rabbi Danya Ruttenberg, Author of Nurture the Wow, Surprised By God and other books.
'A WONDERFUL PORTRAYAL OF AN IDEAL RELATION BETWEEN TEACHER AND STUDENT'
"I was struck by the book for several reasons. It is a wonderful portrayal of what seems an ideal relation between teacher and student. Both learned from each other and both grew and changed as a result of that connection. Max was clearly an extraordinary student and kept being that until his last days; his hunger for education was in itself touching and inspiring. Sarah was the teacher who especially inspired him and clearly the book she wrote about their connection shows both what a superb teacher she was and how Max will remain an important figure in her life. – Raissa Landor, Teacher
'AN INTIMATE PORTRAIT OF COURAGE ON BOTH SIDES'
"The single false note in this exuberant, moving, and endlessly fascinating book is the title: Letters from Max also includes letters from Sarah, and not only letters. Both writers contribute poems, songs, dialogues, dreams, thoughts, fears, and jokes. This collection packs a tremendous emotional and intellectual punch. Ritvo's cancer was steadily gaining on him throughout the period he and Sarah corresponded, and this adds great poignancy to the already moving account of a vital friendship. While this collection is an intimate portrait of courage on both sides, it's also a spirited writing workshop and philosophical debate. The voices here are so warm and vital they embrace the reader as they do each other, and there's a sad silence when you finish the book." —Laurie Greer, Bookseller at Politics & Prose