Read This Next: Daley Recommends (August)
Summer is so hot, humid, and potent in these three books that it almost constitutes its own character. But autumn in the book business means that publishers unleash a torrent of new releases into the world, and all of the authors featured here have new books coming out this fall. Two of these previously released books confront the ominous portents of hurricane season in the Gulf South; all three grapple with family, death, and the whole big, messy project of America in equal measure. These are bold, imaginative books with strong authorial points of view, deserving of excitement alongside the writers' forthcoming releases.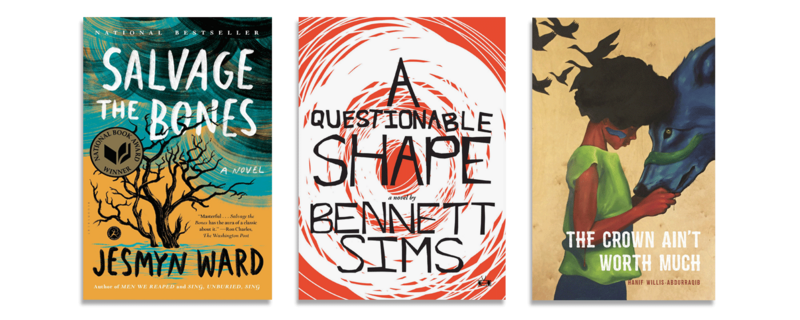 Salvage the Bones
Jesmyn Ward
Bloomsbury Publishing, 2011
Fiction
What is a good book, if not so immersive that you aren't the same reader as when you began? That's how I felt upon finishing Jesmyn Ward's National Book Award-winning Salvage the Bones. The story follows fourteen-year-old Esch, her three brothers, and their father, living together on their spare tract of land in coastal Mississippi as Hurricane Katrina approaches the Gulf. Ward's fierce and unsparing novel elevates the life of a poor black girl to the heights of Greek mythology, merging a propulsive, page-turning story with poetic language and incalculably rich characters. Salvage the Bones and the forthcoming Sing, Unburied, Sing are both masterful, incisive visions of America, and Ward is a national treasure (as well as dearly treasured in this bookstore). Buy now»

Scribner will release Jesmyn Ward's third novel, Sing, Unburied, Sing, on September 5, 2017.
A Questionable Shape
Bennett Sims
Two Dollar Radio, 2013
Fiction
In his intellectually sportive debut novel, Bennett Sims regards the undead as a source of existential unease as well as an immediate danger. Sims's narrator is both delightfully clever and realistically exasperating as he frets his way through a promise to help find a friend's missing father. But the elusive patriarch has almost certainly joined the ranks of the zombies plaguing the South, and the approaching hurricane season makes the already risky search desperately unsafe. A Questionable Shape delivers the thrills of a familiar zombie story, but a broader treatise on the nature of death, or un-death, unfolds in the narrator's ample footnotes and parenthetical asides. This mashup of genre and philosophy funny, smart, and singular. Buy now»

Two Dollar Radio will release Bennett Sims's first collection of short stories, White Dialogues, on September 12, 2017.
The Crown Ain't Worth Much
Hanif Abdurraqib
Button Poetry, 2016
Poetry
Set primarily in Abdurraqib's hometown of Columbus, Ohio, this book is suffused with the sticky humidity of Midwestern summers––an atmosphere both nostalgic and ominous in turns. In "In Defense of 'Moist,'" the poet writes "I am thinking of how everyone I love / was once taken from the inside of another person / moist with what carried them / into the world / isn't that worth the smallest praise." But tragedy often follows these moments of tenderness: "I say moist / as in / my homie's blood left the corner of my block moist / or / his mama had her hands moist with what once kept her baby alive." Ranging across styles and subjects, each poem forms its own engrossing world of need, love, or grief. From the shoutouts to Springsteen to the barbershop vignettes to the long titles mirroring early 2K emo songs, this book is vibrant and alive. Buy now»

Two Dollar Radio will publish Abdurraqib's debut collection of essays, They Can't Kill Us Until They Kill Us, on November 14, 2017.

BUY THESE TITLES FROM MILKWEED BOOKS  | 612-215-2540