Read This Next: Daley Recommends (May)
I had already given up on trying to wrangle a theme out of my selections for this month when I realized that every title I chose is a slender, weird little book driven by the author's irresistible voice and forceful personality. In precise sentences and assured prose, all three of these writers have crafted singular works of personal nonfiction. Each offers a distinct perspective grounded in intensely personal experiences, and yet it's surprising to consider how many similar subjects their books cover: religion, family, alienation, reckoning with history, and sense of place.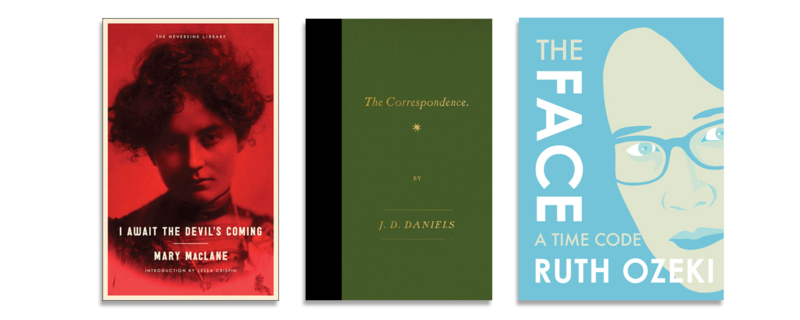 I Await the Devil's Coming
Mary MacLane
Melville House Books, 2013
Nonfiction/Diary
I Await the Devil's Coming details the philosophies and day-to-day existence of nineteen-year-old Mary MacLane, a self-proclaimed female genius and gigantic fish in the tiny pond of Butte, Montana at the turn of the twentieth century. I read this in the early months after Milkweed's bookstore opened and it blew me away; MacLane's magnetic confidence and insistently physical presence are palpable on every page. Uniquely attuned to life's sensual pleasures, Mary is moody, brazen, dark, and claims to be in love with the devil. She is also absurdly ahead of her time—both in her proto-modernist declarative style as well as in her ideas about gender, class, and how to live well. Buy now»
The Correspondence: Essays
J.D. Daniels
Farrar, Straus & Giroux, 2017
Nonfiction/Essay
It's hard to say whether humor is the undercurrent to these vignettes frankly rendered personal turmoil, or if turmoil and violence undergird an essentially wry and clever book. Neither, I guess—I haven't read anything else quite like this spare, acerbic debut, and I don't think I would have enjoyed a book equally as macho but less exacting. On every page, Daniels delivers two or three lines together that are so biting I have to read the whole passage again. "Letter from Majorca" seems to be the popular favorite, but the surprising and raw interrogation of masculinity paired with seething American weirdness make "Letter from Kentucky" the essay for me. Buy now»
The Face: A Time Code
Ruth Ozeki
Restless Books, 2016
Nonfiction/Memoir
A funny, disarming examination of self and family, appearance and aging. Ozeki decides to observe her own face for three full hours and shares minute-by-minute reactions to her reflection. In alternating chapters, she explores her family background, Zen Buddhism, and classical Japanese theatre, briefly illuminating each of her varied subjects with wit and openness. While not an exercise in the same "sustained attention" with which Ozeki regarded herself in the mirror, A Time Code launches from questions posed in the koan at its beginning ("What is your original face?") and turns the reader's attention in surprising directions, opening new possibilities with bright moments of recognition and insight. Buy now»
Find these books and more at Milkweed Books!