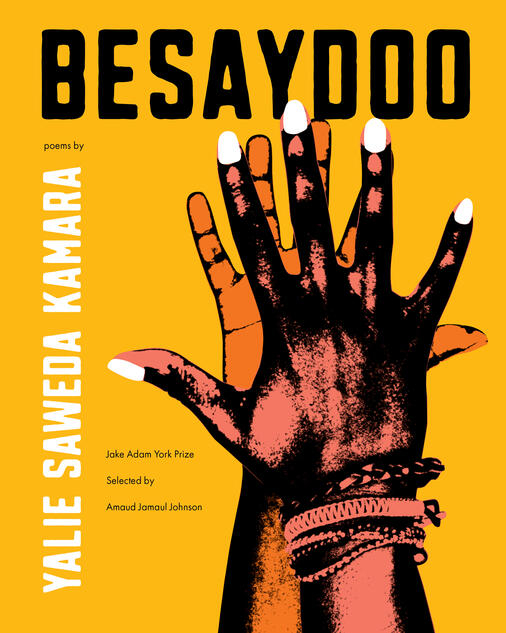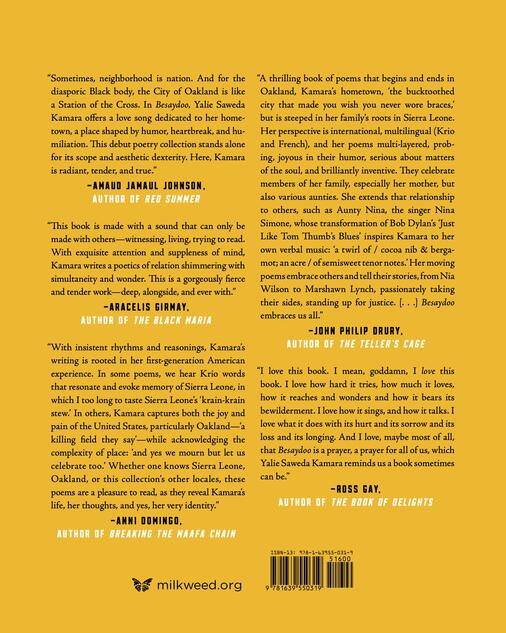 Preorder now for January!
"I love this book. I mean, goddamn, I love this book […] I love, maybe most of all, that
Besaydoo
is a prayer, a prayer for all of us, which Yalie Saweda Kamara reminds us a book sometimes can be." —
ROSS
GAY
Selected by Amaud Jamaul Johnson for the 2023 Jake Adam York Prize, Yalie Saweda Kamara's Besaydoo is an elegantly wrought love song to home—as place, as people, as body, and as language.
A griot is a historian, a living repository of communal legacies with "a story pulsing in every blood cell." In Besaydoo, Kamara serves as griot for the Freeborn in Oakland, the Sierra Leonean in California, the girl straddling womanhood, the woman re-discovering herself. "I am made from the obsession of detail," she writes, setting scenes from her own multifaceted legacy in sharp relief: the memory of her mother's singing, savory stacks of lumpia, a church where "everyone is broken, but trying." A multitudinous witness.
Kamara psalms from the nexus of many languages—Krio, English, French, poetry's many dialects—to highlight mechanisms not just for survival, but for abundance. "I make myth for peace," she writes, as well as for loss, for delight, for kinship, and most of all for a country where Black means "steadfast and opulent," and "dangerous and infinite." She writes for a new America, where praise is plentiful and Black lives flourish.
But in Besaydoo, there is no partition between the living and the dead. There is no past nor present. There is, instead, a joyful simultaneity—a liberating togetherness sustained by song.
The Besaydoo audiobook read by Yalie Saweda Kamara will be available everywhere you listen to audiobooks on January 9, 2024.
Keywords
Sierra Leone; Oakland; diasporic poetry; Black American poetry; Western Africa; spiritual poetry; sobriety; community; immigrant; ritual; female experience; Blackness; codeswitching; identity; tradition; grief; loss; healing; motherhood
Dimensions
10 × 8 × 0.25 in
Like this book? Sign up for occasional updates
Praise and Prizes