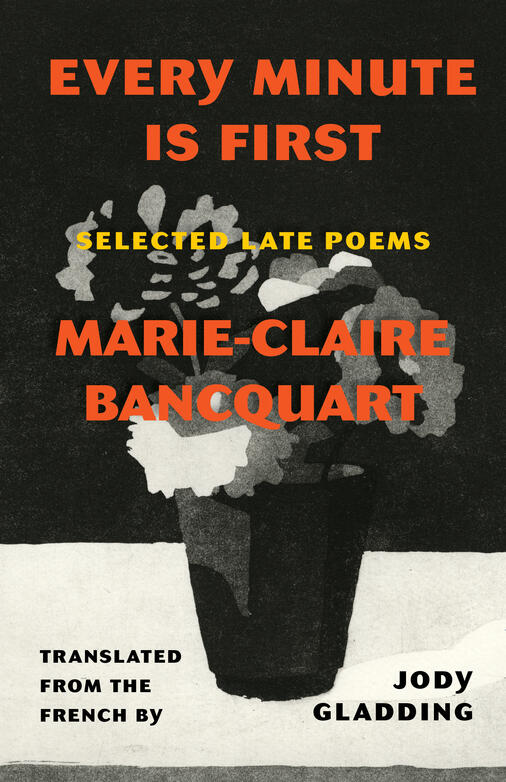 Every Minute Is First
Selected Poems of Marie-Claire Bancquart
"Gladding's translation, visceral yet clear as glass, renders each poem as a lucid pane into a world that is eternally dissolving, eternally becoming, a world that 'doesn't refuse / to be broken like fresh bread.'" —
MICHAEL
BAZZETT
A penetrating and encompassing English-language translation from the celebrated French poet touching on death, domesticity, nature, language itself, and—always—the body.
French literary icon Marie-Claire Bancquart (1932–2019) is known for an uncanny inhabitation of the concrete, finding whole worlds, even afterlives, in daily instances and spaces. "If I could seize a little nothing / a bit of nothing," she muses, "all things would come to me / those that dance / in its cloth." The tiniest moments can be acts of utterance, defiance, communion, and immortality. Yet death does indeed appear in the everyday, though it's more than a fact of existence. It is fiction as well, small cunning stories we create so we're not merely waiting for it: "one sets / close by / the pot of orange flowers / the here and now / to block the view."
Here, the infinitesimal has no end; the smaller life gets, the deeper and more carefully Bancquart has us pause to notice its offerings. Though for her "the body" is the surest, most trustworthy way of knowing, the mystery of language is often referenced, and reverenced. And translator Jody Gladding, an award-winning poet herself, beautifully carries forward Bancquart's lifetime of distinctive work. Every Minute Is First is lean, lucid yet philosophical poetry, reflecting visceral life and experiential thought, walking in the dark with a light, lighting words—or alighting on them—in their own incandescent power to make the long-lived journey meaningful.
Keywords
French, poetry, death, the body, domesticity, Nature, translation
Dimensions
8.5 × 5.5 × 0.25 in
Like this book? Sign up for occasional updates
Praise and Prizes