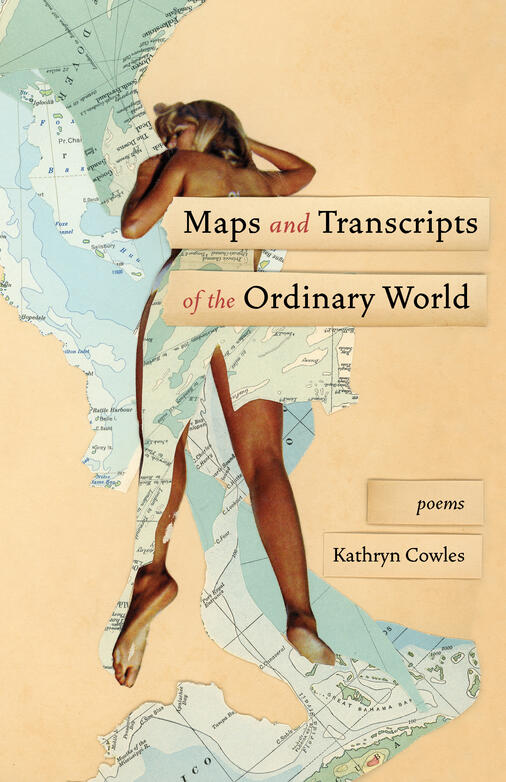 Maps and Transcripts of the Ordinary World
"The luckiest readers [of this collection] will wind up in a rocking chair on a porch, seeing the world as if for the first time." —
MARY
RUEFLE
Kathryn Cowles's Maps and Transcripts of the Ordinary World is a collection that lingers in memory and place, in the unsettled distance between reality and its transcriptions.
"I take seven photographs turning / in a circle, a panorama, / but how will I place them hanging / on a wall back home? Something already slipping," Cowles writes. These poems surround a central question: how much of a moment is captured by the mechanisms we use to describe it? How much of the shore, the birds, the feeling? In pursuit of an answer, Cowles leads readers through a sequence of distinct landscapes (islands, plains, mountains, oceans) with both traditional lyricism and the playful refrains of a speaker fixated on the dilemma of representation. "Holy photograph. Holy actual world. Equal sign equal sign equal sign."
Cowles's poems both puzzle over and embrace the valley between literature and lived experience. Along the way, her language is light but recursive, rotating around beloved places: a new house, a garden, a seemingly endless plane ride, a battery-operated spit of lamb, a photograph of a battery-operated spit of lamb, dogs, Sue, Ohio. This collection defamiliarizes and refamiliarizes the "actual world," while navigating toward the clear and substantial stuff of living.
Arresting on both visual and textual levels, Maps and Transcripts of the Ordinary World is executed with the utmost intelligence, humility, and tenderness.
Keywords
art, artistic, communication, creative, creativity, detail, expression, illusion, image, landscapes, language, media, memory, meta, millennial, Nature, perception, personal, photographers, photography, photos, poetry, poets, reality, representation, young
Dimensions
5.5 × 8.5 × 0.25 in
Like this book? Sign up for occasional updates
Praise and Prizes