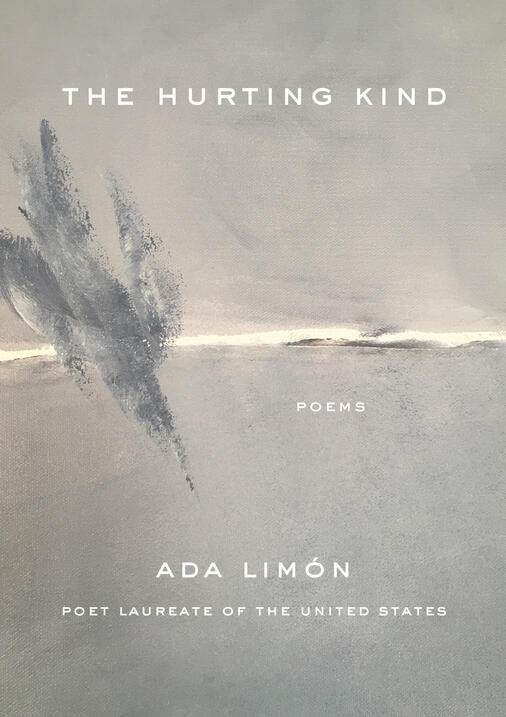 Longlisted for for the 2023 Griffin Poetry Prize
Longlisted for the Brooklyn Public Library Book Prize
An NPR "Book We Love"
A BookRiot "Best Book of the Year"
An Indie Next Selection for May 2022
A Los Angeles Times Recommended Read for May 2022
A Publishers Weekly "Top Ten Most Anticipated Book of Poetry" for Spring 2022
A Literary Hub "Most Anticipated Book of 2022"
An astonishing collection about interconnectedness—between the human and nonhuman, ancestors and ourselves—from National Book Critics Circle Award winner, National Book Award finalist, and U.S. Poet Laureate Ada Limón.
"I have always been too sensitive, a weeper / from a long line of weepers," writes Limón. "I am the hurting kind." What does it mean to be the hurting kind? To be sensitive not only to the world's pain and joys, but to the meanings that bend in the scrim between the natural world and the human world? To divine the relationships between us all? To perceive ourselves in other beings—and to know that those beings are resolutely their own, that they "do not / care to be seen as symbols"?
With Limón's remarkable ability to trace thought, The Hurting Kind explores those questions—incorporating others' stories and ways of knowing, making surprising turns, and always reaching a place of startling insight. These poems slip through the seasons, teeming with horses and kingfishers and the gleaming eyes of fish. And they honor parents, stepparents, and grandparents: the sacrifices made, the separate lives lived, the tendernesses extended to a hurting child; the abundance, in retrospect, of having two families.
Along the way, we glimpse loss. There are flashes of the pandemic, ghosts whose presence manifests in unexpected memories and the mysterious behavior of pets left behind. But The Hurting Kind is filled, above all, with connection and the delight of being in the world. "Slippery and waddle thieving my tomatoes still / green in the morning's shade," writes Limón of a groundhog in her garden, "she is doing what she can to survive."
Keywords
poetry; nature poems; animals; horses; Kentucky; fish; family; stepfamily; parents; stepparents; grandparents; natural world; nature; family; mortality; trees; love poems; family poems
Dimensions
8.5 × 6 × 0.5 in
Like this book? Sign up for occasional updates
Related Media
Video URL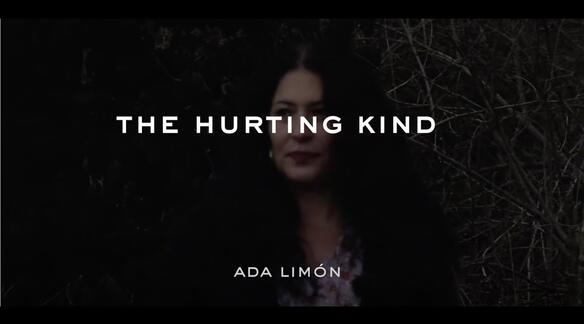 Watch: Book Trailer for The Hurting Kind by Ada Limón
Video URL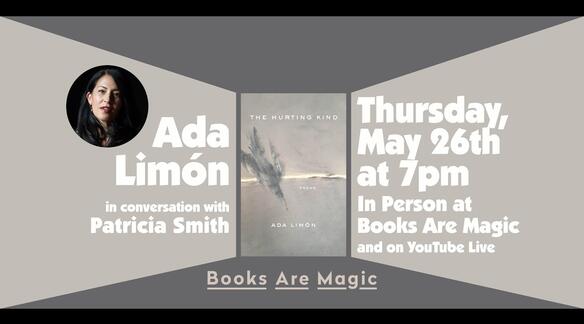 Watch: Ada Limón event with Patricia Smith | Books Are Magic
Author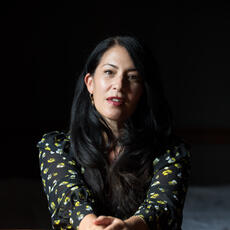 Ada Limón is the twenty-fourth U.S. Poet Laureate as well as the author of The Hurting Kind and five other collections of poems.
Praise and Prizes
"So grateful am I for Limón's powerfully observant eye. There are many wonderful poems here and a handful of genuine masterpieces… . The Hurting Kind is packed with quiet celebrations of the quotidian… . Limón forces herself to confront, again and again in these poems, nature's unwillingness to yield its secrets—it's one of her primary subjects. The seemingly abundant wisdom of the natural world is really a vision of her own searching reflection… . Limón is great company in the presence of the inchoate, able and willing to stand with her readers before the frightening mysteries and hopeful uncertainties of the everyday."

New York Times Book Review

"I can always rely on an Ada Limón poem to give me hope, but Limón's poems don't give us the kind of facile Hallmark hope; rather, her hope is hard-earned, even laced with grief or happiness … Limón is a master at making a simple idea (that of hindsight, seeing the bright side of things) askew. 'And so I have/two brains now,' she writes. 'Two entirely different brains.' Limón gives us two brains in her poems too, revealing new ways to view the world."

"In her sixth collection of poetry, The Hurting Kind, Ada Limón seeks to find the intimate connections between the seemingly disparate in the everyday: humans and the natural world, the living and the dead, the intellectual and the spiritual. The collection's title is apt—it is a testament to the innate power of feeling, whether grief, rage, or tenderness. For Limón, the current Poet Laureate of the United States, who declares herself 'too sensitive, a weeper… the hurting kind,' even the seemingly banal facets of our existence deserve not only observation, but also empathy and amazement."

TIME

Magazine

, 100 Must Read Books of 2022

"Limón's poems are unique for the deep attention they pay to both the world's wounds and its redemptive beauty. In otherwise dark times, they have the power to open us up to the wonder and awe that the world still inspires."

"For poet Ada Limón, evidence of poetry is everywhere. It connects big ideas—like fear, isolation, even death—with little details—like field sparrows, a box of matches, or 'the body moving / freely.' The award-winning poet's sixth and latest collection, The Hurting Kind, is a testament to the power of such sensitivity … The power of attention, Limón conveys, is in finding out just how an individual's experience might fit into the collective experience. But in The Hurting Kind Limón takes her method even further to ask: Isn't wonder enough? … Above all, The Hurting Kind asks for our attention to stay tender. To know that the world is here to both guide us and lead us astray. Toward the end of the long poem, Limón writes: 'I will not stop this reporting of attachments. / There is evidence everywhere.' So don't stop looking. Just be open to what you may find. And know that the world is watching you, too."

"The Hurting Kind is a book of living language — and nowhere more than in the way words animate the poems … Throughout [Limón's] work, the language is direct and unadorned while also playful and full of unexpected turns. Something similar is true of The Hurting Kind, which is a quieter book — but no less fierce for being so… . When Limón exclaims, in the last line of the poem and the collection, 'I am asking you to touch me,' she is writing out of the darkness of the pandemic, but she is also addressing something more universal and profound. What are words worth if they can't help to bridge the gaps between us? It's a question many of us are asking as we try to navigate this fallen world."

"Ada Limón is a bright light in a dark time. Her keen attention to the natural world is only matched by her incredible emotional honesty…. Considering the arc from youthful vibrancy to protective camouflage, Limón tracks the beauty of wisdom as we age. Reconciling the all too human matter of our lives within the spectacle of nature, Limón archives a suspended grace…. The Hurting Kind … explor[es] the restorative connections between human life and the natural world. The poems reckon with vulnerability and grief in a startling and broken world."

"[Ada Limón] is one of my all-time favorite writers, someone whose work I return to again and again for solace, inspiration, and truth."

"These poems home in on how grief makes us human … [Limón] reminds readers that we are nothing without connection. If you haven't read poetry in a while, this volume might be what you need to reconnect with the form."

"In one of Ada Limón's early poems, she asks, 'Shouldn't we make fire out of everyday things?' For the past 16 years, that's exactly what she's done. [She is] fearlessly confessional and technically brilliant."

"The tender, arresting sixth collection from Limón is an ode to the cycle of birth, death, and rebirth that characterizes the natural world … Limón's crystalline language is a feast for the senses, bringing monumental significance to the minuscule and revealing life in every blade of grass."

"[Limón's] bright and clear-eyed lyrics extract the most profound tenderness from the simplest moments … An understated, powerful, unforgettable collection, and no doubt one of the best of this year."

"In The Hurting Kind, [Limón] touches on the pain of living in the world today (the wounds of the natural world, the pandemic between us), but it is not all sorrows … You don't have to look hard to see the joy and the small celebrations of the things that bind us to one another. The Hurting Kind is a book composed of our connective tissue."

"Most Anticipated Books of 2022"

"Brilliant … Throughout is the trademark wonder, and blown-out perceptivity, underscoring Limón's clarion melancholy."

 

"The interconnectedness of our world is both a potent reminder of the meaning of our home on this earth, and rich territory for art. Limón's art is indeed a rich and deeply moving experience."

"Like Sharon Olds and Pablo Neruda, the poets she most resembles, and clearly learned from, Limón is a lover. She writes like a hyperporous lover of the world … One of the greatest challenges of our time is to see the living world as having value beyond us. To acknowledge the damage done. What if, Limón appears to be asking in this remarkable book, the best we have made, the finest instrument we know, is our language of love?"

​​"Stunning … [A] kind of internal whiplash, in which quiet everyday moments become the unwitting prisms through which we suddenly start to see our true selves, is a hallmark of Limón's work. Over the course of six collections of poems, she has proven herself adept at balancing whip-smart emotional observation with graceful descriptions of the natural world … After her last collection, 2018's The Carrying, won the National Book Critics Circle Award, she established herself as the rarest form of American poet—the kind that resonates with an audience that does not normally pay attention to contemporary poetry. Her elegant narrative poems are keenly observed, remarkably accessible, and pack an emotional wallop."

"It's comforting, amid a stack of thick novels and all the latest cookbooks, to keep a book of short poems to dip into like scripture. This is the latest from the open-hearted Kentucky-based poet Ada Limón, who writes earnestly about love, her Mexican American family, and the wildness of memory."

"Best Southern Books of 2022"

"Limón responds in her poetry to what she identifies as an ecological imperative to re-describe our relationship to 'nature' in a manner that isn't merely instrumental. The moving personal dramas that her poems detail can never be separated from the landscape in which they occur … Consequently, her poetry, which can feel so intimate and self-revealing, is almost constantly political at the same time … There are endless things to say about the articulate, complex emotional resonance of the poems in this book. Still, what Limón says about 'a life' is true as well for her book: 'You can't sum it up.'"

"Once again, Ada Limón has written a book I don't want to put down. I find the intensity of her honest interior and environmental explorations spellbinding … I see the world in these poems. It may cut me up, but it will also give me back to myself again."

"The Hurting Kind, Ada Limón's sixth poetry collection, embodies the interconnectedness of survival and surrender … Limón's opus, a poetic sonic composition of observation, shifts between the tense positions of witness and watcher. Rather than end tidily with a conclusion, she leans into actionable hope. How could Limón have anticipated that current history would speak in harmony with The Hurting Kind? Today, more so than when I first read it, a line in the title poem hits me harder and with greater poignancy — 'Now teach me poetry.'"

Los Angeles Review of Books

"[A] shimmering new collection of poems … The matter of aliveness is at the very core of The Hurting Kind, a collection that feels as though it's right on time, with verse that hews close-to-the-bone and is uncommonly relatable in its unflinching, but deeply compassionate, treatment of human pain. Rather than working to dodge the hurt, to make meaning of it so that it might be transmuted from wound into scar, The Hurting Kind is an invitation to sink into the ache, pressing willingly on the bruises wrought by 'being a body in time, being a body alive' … The Hurting Kind is a work of deep humanity, of recognizing all that's asked of us … It is mercy."

"Each poem is a stone in the poet's hand being turned over and over to reveal its quartz-qualities, its secret radiances, its prismatic reflections. Lucid, as ever."

"Most Anticipated Books of Winter/Spring 2022"

"[Limón's] empathetic and clarifying voice has always been a balm in trying times, and The Hurting Kind arrives at just the right moment, a tender exploration of what it means to be connected to the world and the pain and joy of daily living when such things feel increasingly difficult."

"Poet Ada Limón often writes about birds, and her new book, The Hurting Kind, is no exception. Birds are a throughline in the book — between the seasons, from childhood to present, and knowing and unknowing."

"Limón is a poet of ecstatic revelation. Her poetry feels fast, full of details, often playful, and driven by conversational voice."

"Limón is one of the country's finest poets… . She performs a near-miraculous feat in balancing razor-sharp imagery with deep ambivalence."

"[Limón] writes with remarkable directness about the painful experiences normally packaged in euphemism and, in doing so, invites the readers to enter the world where abundant joy exists alongside and simultaneous to loss."

"That Limón is able to inhabit both past and present in the same moment is part of what makes her poetry so evocative; that she can express it so finely is what makes her an exceptional poet… . In all her work, Limon examines language, often questioning rubrics and those who establish them. She is both icon and revolutionary, breaking arbitrary rules, especially if they seek to contain what is poetry, and who it is for … Through this stunning collection, throughout her brilliant career, Limón manages the impossible—summing up life—from a multitude of perspectives, unforgettable images, and with verse and silence. The seasons end, lives end, love ends, and then it all begins again. Therein lies our grief. Therein lies our hope."

"Limón's poems are like fires: charring the page, but leaving a smoke that remains past the close of the book."

"Limón doesn't write as if she needs us. She writes as if she wants us. Her words reveal, coax, pull, see us… . [She is] a poet with the most generous of eyes."

"Lyrical, tender, and knowing … Limón's poetry connects the personal and the universal."

"With the knowing directness of a letter, Limón's poems speak to the marrow of our everyday condition … The power of Limón's unflinching examination of grief and loss is only surpassed by her love of beauty and compassion."

"This collection is a testament to survival, to the will to go on and to the way the world goes on without us… . Reading these poems brings the world into such focus that you can't help but feel more tethered to it, receptive to its hurt and attuned to its wonder."

"Poetry readers have come to expect greatness from Limón… My most brief statement on the quality of this collection is this: If you have space to teach just one book of poetry, make it The Hurting Kind… . What Limón manages with The Hurting Kind is rare; the poems are at once highly specific and yet broadly relatable, both technically masterful and easily comprehensible. In sum, this collection works equally well for both the avid poetry enthusiast and the reluctant reader. If I was going to try and convince someone that poetry is our most important verbal art, I would start with The Hurting Kind… . The Hurting Kind is a collection that begs to be shared, and one that will inevitably show signs of wear as readers carry it with them for weeks at a time."

"[Limón] is a poet of both studied and innate talent and with each poem, each carefully crafted collection, Limón has gifted us with an oceanic well of wisdom, intertwining our humanity with the natural world we live within. The Hurting Kind, her latest offering, is a powerful meditation on relationships with love, loss, family, friends, interlaced with an equal intimacy with the land, trees, plants, and animals. Anyone can see themselves in these poems but, more importantly, they can sense the lessons of our ancestors and the grief we must reckon with collectively, together, if our species will survive ourselves and continue to endure."

"The Hurting Kind is a collection not unlike her previous collections—which is to say, it's a book of poetry that centers the heart and the non-human, or more-than-human, entities of the world. The Hurting Kind, though, feels also like a departure: a book of reflections, of looking backwards and inwards, as much as one of observation, a book of the present, of the poet's current self and surroundings. These poems simultaneously incite and interrogate connection and its opposite, and in language that is both astonishing and accessible, the speakers in Limón's The Hurting Kind are truth-seekers that lean into feeling, that fully inhabit their physical and emotional worlds."

"In Limón's newest collection, she writes poems suffused with nostalgia, longing, and grief, divided up by the seasons, writing of nurturing seeds, steadfast love, grief, burial. She writes of joyful wonder and powerful grief. Of getting high and staring up at cherry trees, of earning a cat's trust, of seeing the neighbors get a tree cut down, all tangled up in stories of emotionally manipulative relationships and family discoveries and what real love looks like. Mainly, she writes about what it's like to be 'the hurting kind' of person—a tender kind of person, sensitive to the pain she sees and the small joys she glimpses out in the world, soft, vulnerable, painfully empathetic. It's the kind of person I am, and I saw myself so deeply in these poems. Limón's hit it out of the park once again."

"Ada Limón's sixth and latest collection is a testament to the power of sensitivity. As with her previous award-winning books, The Carrying and Bright Dead Things, these poems are acutely aware of the natural world. And Limón has a knack for acknowledging nature's little mysteries in order to fully capture its history and abundance. For her, evidence of poetry is everywhere. She connects big ideas—fear, isolation, even death—with little details, like field sparrows, a box of matches or 'the body moving / freely.' Above all, The Hurting Kind asks for our attention to stay tender."

Jeevika Verma,

NPR

, Books We Love

"In this book, Limón gives us delightfully candid poetry of celebration and of celebrated regret."

"Again and again in this poetry collection, her sixth, Limón confronts nature's unwillingness to yield its secrets—it's one of her primary subjects. The seemingly abundant wisdom of the natural world is really a vision of her own searching reflection. 'Limón looks out her window, walks around her yard, and, like Emily Dickinson, trips over infinities,' our reviewer wrote."

New York Times, "100 Notable Books of 2022"
You Might Enjoy
Based on this book, we recommend you try…
Blog Post
Milkweed Staff — 10/04/2023
Event
Join via Zoom on Wednesday, December 6 at 2 pm CT for a multilingual conversation and reading with Zoque poet…