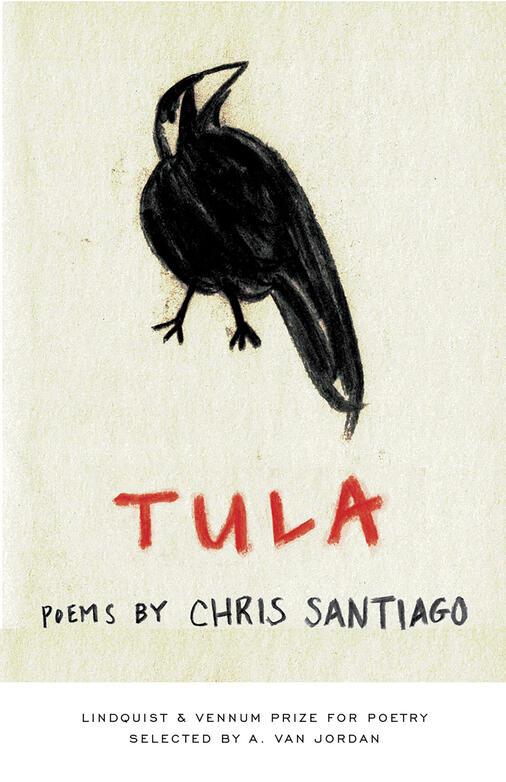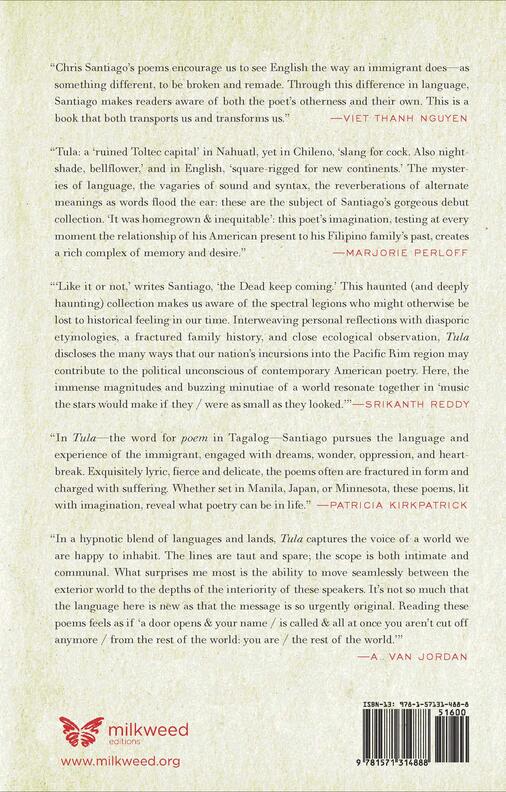 Tula
"A book that both transports us and transforms us." —
VIET
THANH
NGUYEN
Tula: a ruined Toltec capital; a Russian city known for its accordions; Tagalog for "poem."
Prismatic, startling, rich with meaning yet sparely composed, Chris Santiago's debut collection of poems—selected by A. Van Jordan as the winner of the 2016 Lindquist & Vennum Prize for Poetry—begins with one word and transforms it, in a dazzling sleight of hand, into a multivalent symbol for the immigrant experience. Tula: Santiago reveals to readers a distant land devastated by war. Tula: its music beckons in rhythms, time signatures, and lullabies. Tula: can the poem, he seems to ask, build an imaginative bridge back to a family lost to geography, history, and a forgotten language?
Inspired by the experiences of the second-generation immigrant who does not fully acquire the language of his parents, Tula paints the portrait of a mythic homeland that is part ghostly underworld, part unknowable paradise. Language splinters. Impossible islands form an archipelago across its landscape. A mother sings lullabies and a father works the graveyard shift in Saint Paul—while in the Philippines, two dissident uncles and a grandfather send messages and telegrams from the afterlife.
Deeply ambitious, a collection that examines the shortcomings and possibilities of both language and poetry themselves, Tula introduces a major new literary talent.
Dimensions
5.5 × 8.5 × 0.31 in
Like this book? Sign up for occasional updates
Praise and Prizes