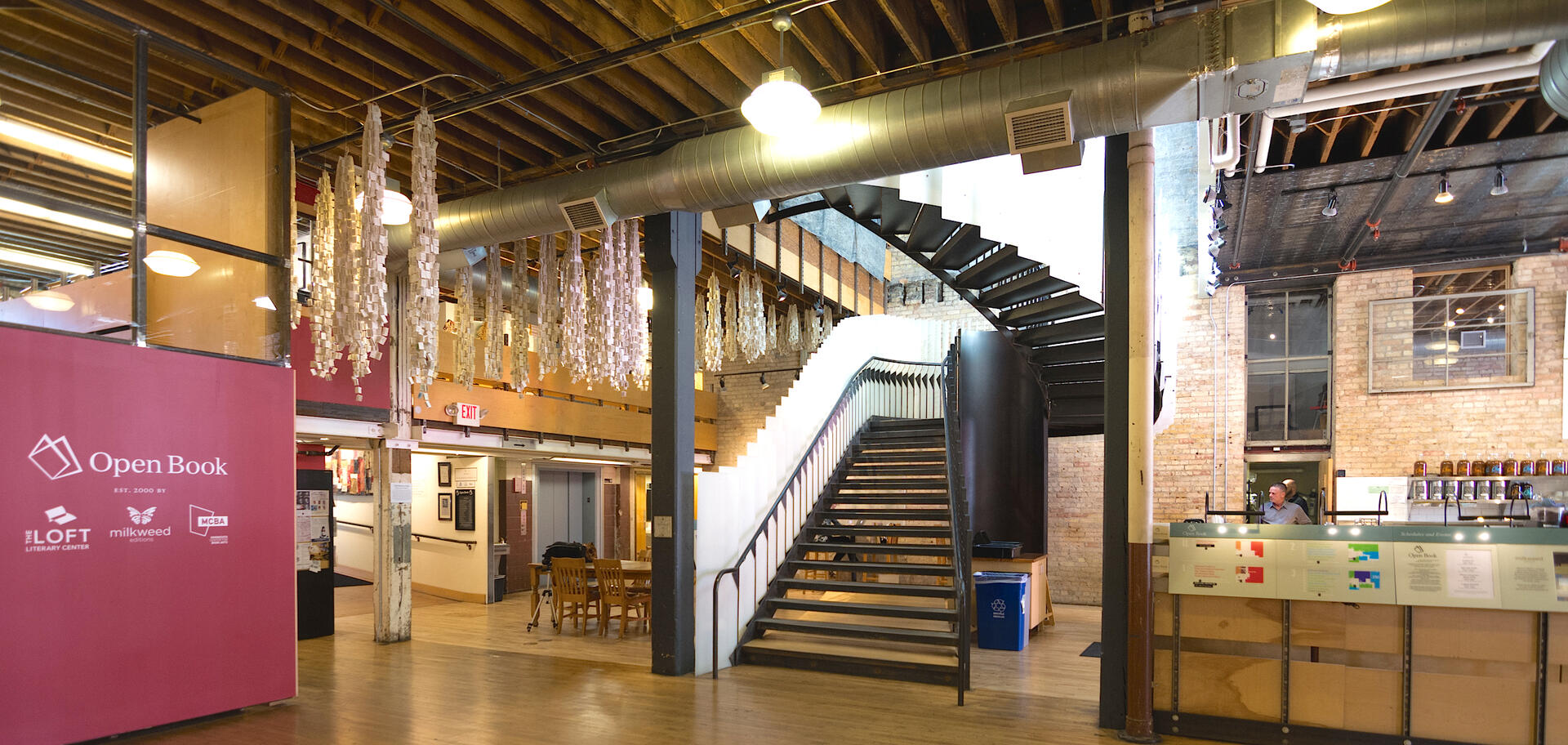 Creating a Space for Literature to Thrive
At Milkweed Editions, it's easy to forget how lucky we are to come to work in the Open Book building every day. Milkweed was founded in Minneapolis, and for twenty years we bounced from one just-okay office to another. Then, in the late nineties, a group of ambitious arts leaders came together on the east side of downtown Minneapolis—now a bustling area of parks, theaters, and restaurants; then a crumbling collection of empty lots, warehouses, and liquor stores—and said: Let's build the largest literary center in the nation here.
The rest is history. In short, an impassioned group of advocates for the arts, and literature specifically, raised more than seven million dollars to purchase three conjoined warehouses and to turn them into the architectural marvel we now call home. After fifteen years in the space, another group of donors provided funds for a full renovation to the building, which transformed Milkweed Editions into the sun-filled, open work environment we currently occupy, and laid the groundwork for the eventual creation of our bookstore, Milkweed Books. Today, some 175,000 people come to the building every year for events, classes, to buy books, or simply to experience a space unlike any other in the country.
While it's hard to measure the actual impact of a physical environment, it's fair to say that our offices offer a fitting representation for the way we operate: They feature an open, collaborative work environment. The few walls that exist are made of transparent glass, and more often than not the light is provided by the sun via the eight solar tubes channeling natural light in from above. The materials used throughout feature as much reclaimed, recycled, or reused material as we could source. And as often as possible, we welcome the public in by hosting events in our office space.
And this last point might be the most profound impacts of the Open Book building: Because we're blessed with one of the best spaces in the nation for literary events, we have the opportunity to bring the books we publish and the authors we work with into direct, live conversation with a wider range of readers and communities than we ever could have otherwise. We hope that, before too long, we'll get the opportunity to welcome you into our space as well.