Authors / Editors / Interviews
5 Reasons to Teach This Book—Hearth: A Global Conversation on Community, Identity and Place
Welcome to our second installment of 5 Reasons to Teach This Book! In this new interview series, I'll be investigating and straight-up admiring some of Milkweed's titles via conversations with educators, authors and booksellers. Through this dialogue, we'll expose the nuts-and-bolts of anthology curation and highlight some exciting pedagogical takes that will make your students want to steal this book from you. This month we are featuring Hearth: A Global Conversation on Community, Identity and Place, an anthology co-edited by Susan O'Connor and Annick Smith that we published in paperback this August.
Hearth's table of contents boasts contributions from Natasha Trethewey, Pico, Iyer, Angie Cruz, Luis Alberto Urrea—as well as a portfolio of Sebastião Salgado's photographs—and so many others whose work I admire or have come to love through reading this book. Poet and Hearth contributor Geffrey Davis is someone I particularly admire. I first met Davis in October 2016, just as the sun was getting low in New Orleans; we were there for the first-ever Conversation Literary Festival, a festival that is above all else about building home where Black people were never meant to imagine anything. Davis's contribution to Hearth—an essay about angling, poetry, and family—reflects his experience of transience, of finding home in moving waters. We spoke about community, solitude, and "failure and joy"—read on for more.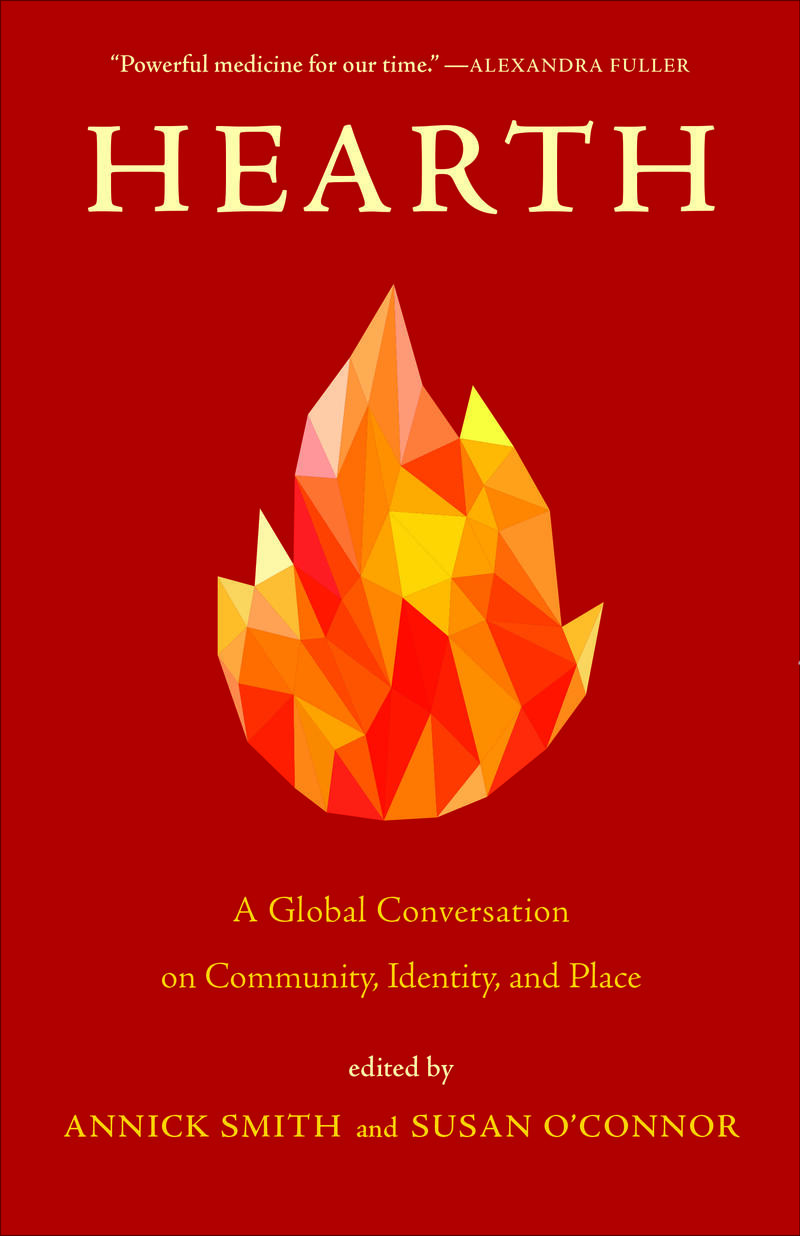 Julian Randall: I'm curious about how you see the italics in your piece "Even in the Loneliness of the Canyon" working. Some are a few sentences, some a block of text, in one case it is just a single word with each marking the end of a section of the essay. To my eye they function almost as a parallel narrative, an undercurrent; which seems fitting given how much rivers are a character in this essay. How did you decide to use these in this specific essay?

Geffrey Davis: Yeah, that's how I see them, too; though (and maybe this is always true with art) the undercurrent arrived first. I wrote this piece during a residency at the Vermont Studio Center. The Gihon River runs through that campus, flows right beyond the windows of the writers' studios. It seemed like an ideal context for doing the work—writing and reflecting about my history with rivers from the actual banks of a gorgeous little stream—but each time I tried to begin, I found myself either bailing into a new poem or bogged down under the questions of where and how to start that personal telling. Midway through the residency, to mix things up, I hiked to a section of the river away from my studio and challenged myself to just sit still and do some description exercises. As you know, unforced observation has a way of becoming lyric over time. Back at my studio, I found that those lyric observations immediately began to trigger recollections, to worry certain connections, and to shape the narrative in ways that allowed me to take real swipes at the surface story. With the undercurrent driving and sometimes diverting, I had more success and greater faith in what was always going to be a troubled telling.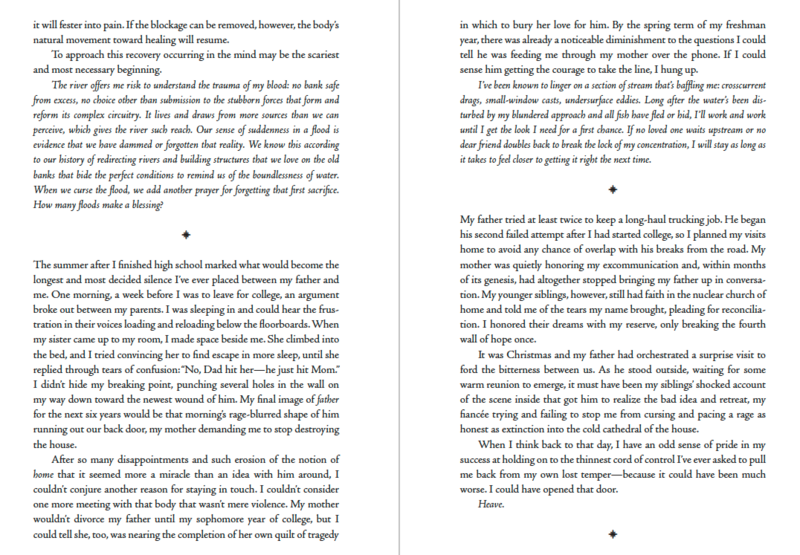 JR: Hearth functions as a collection deeply intrigued by place, identity and community. You and I have met partially because both of us chose to go a long way from where we started and make a new chapter of our life in the South (you in Arkansas and me in Mississippi). How have you seen that transition affect the way your writing considers place? Did you see it show up in your composition of this essay?

GD: Absolutely. Moving east to Pennsylvania for graduate school is when I first realized just how much landscape influences and affects my confidence in moving through a place and engaging people. To date (and with some admitted absurdity), it's been true that my willingness to claim a general sense of belonging really begins with learning a place's rivers. If I can get some good traction on "reading the water"—a term anglers use for guessing at what fish might be doing underwater and out-of-sight by piecing together whatever can be seen at the surface of a river (current patterns, color changes, structure like boulders or fallen logs, etc.)—I will feel more connected to a place and better prepared for connecting with its folk. In a way, this prose piece is all about understanding and deepening that literacy, if only because moving south to Arkansas has really upped my reliance on it. Pennsylvania was a difficult first, but it had more overlap with my Washington home rivers—plenty of cold water and trout—whereas, after six years, I still feel like I'm in the early stages of wading into Arkansas (literally and figuratively), with its mostly warm water and smallmouth bass and Cottonmouths and Ozark oaks and mid-South culture, all of which intrigues and confounds me because I don't yet know how best to read what is and isn't moving beneath.
JR: If you were using Hearth to teach a month-long course, what essays would you choose and why?
GD: Wow, this is a hard one … . I got the great chance to read my piece aloud alongside the editors, Susan O'Connor and Annick Smith, who have been traveling around introducing new audiences to Hearth and reading selections from the book. During the Q&A portion of one event, I felt compelled to bless the editors for two things: for inviting writers to study and speak on home as an idea too dynamic and too vital to stay quiet; and, upon reading the finished book myself, for the chance to sit inside such a diversity of minds and hearts doing their own difficulty explorations of home. Both occasions left me healthier. Which is to say, I think only reading any part of the book risks missing out on one of its central interventions: an ethics of expansion. But damn, as a teacher, I also understand the material and pedagogical realities of selection. So lemme try and answer the question: "Finding the Hearth," by Barry Lopez; "The Fire in Ten: Elements Necessary to Build a Hearth," by Yvonne Adhiambo Owour; "To Live," by Gretel Ehrlich; "Dream Shelter," by Angie Cruz; "The Temple of the World," by Mark Tredinnick; and "From Home to Cosmos," by Mary Evelyn Tucker. Also, don't sleep on the poetry!
JR: My colleague, homie and your former student Bailey Hutchinson should get the credit for this brilliant question: Throughout this piece you speak on how fishing (mostly fly and some spin) is a source of both solitude and also of community building with both your father and others throughout your life. I'm interested in where you draw that connection to your writing; especially when thinking how much Hearth is a community-building-focused anthology, can you speak more to this interplay of solitude and community in writing and fishing for you?
GD: I've spent what sometimes seems like several lives now learning how to disarm the major absences in my life, to own the severest silences (and what breaks through them from time to time), to challenge into faith every love that comes my way because it was decades before I understood how voices and hands that love you could do the dark things they've done to me in the name and form of love—all so I can have a shot at renaming my own sense in the world as safe, good. My father, for instance, taught me to fish and how to love rivers and then, for his own damaged reasons, couldn't take care of me and has been elsewhere throughout most of my life. I'm still trying to survive and thrive against such facts. I think this work will never end for me, like many, maybe like you. And so, for years, fishing (like poems) was a way to control my abandonment and maybe honor my errant belief in staying disconnected as a kind of safety. Especially when I fished in Oregon (where I did my undergraduate work and then took a year off from schooling), I would go as far off the path and stay out as long as possible. But now my return from the stream (like the page) is just as important, maybe even more so. My private practice of angling (like poetry) has evolved into an art of renewing my sense of contact and the joy of feeling radically reconnected on the other end.
JR: We see such a wide trajectory of your personal maturation across this essay, so many drafts of the notion of "home." I'm wondering, if someone were teaching this essay to the version of yourself that was once a graduate student what you would hope they emphasize?
GD: Joy and failure. Failure and joy.