Bookseller Recommendations: September
Happy September, book friends and family! We've got a stellar lineup of recommendations for you this month—which is important, because it's starting to cool down (here in the Twin Cities, at least) and we'd all do well to stock up on books for the transition to indoor weather. You can order any of these titles via Bookshop, call us (612-215-2540), or send us an email. So read on, friends—and read books!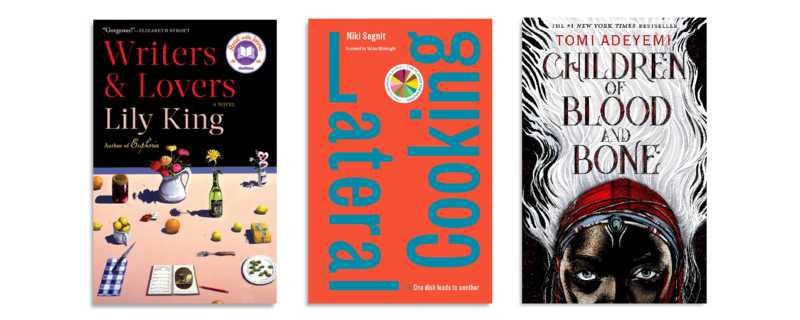 KACHINA
Writers & Lovers: A Novel
Lily King
Grove Press | March 2020 | $27.00
Writers & Lovers felt like a buoy of reassurance in the turbulent sea of our times. I tore through the pages at a speed I haven't felt since I was a middle schooler reading with a flashlight in bed, and I felt so full of love and gratitude for the magic of storytelling by the end. Lily King tackles the complexities of transitioning from a young adult into fully-fledged adulthood: finding a stable career (and healthcare), moving through internal and external grief, and finding oneself in an artistic love triangle. Grounded in relationship to writing and reading, this book is a true delight, and a reminder that love enters our lives in unexpected moments.

LEE
Lateral Cooking: One Dish Leads to Another
Niki Segnit
Bloomsbury Publishing | November 2019 | $40
Lateral Cooking is the best method-based cookbook I've read since Salt Fat Acid Heat. Each recipe leads to the next, which means Niki Segnit shows how pancakes, for example, are related to tempura batter is related to churros is related to roux for gumbo. This book is excellent for learning how food works. The author is a master of flavor combinations and she's also really funny. I've found myself actually laughing out loud, sitting on the kitchen floor reading through this book when I meant to just look up a ratio for chocolate sauce.

BAILEY
Children of Blood and Bone: The Orïsha Legacy
Tomi Adeyemi
Henry Holt & Co. | March 2018 | $18.99
I'd say I devoured this book, but honestly—it devoured me. The gist is this: Zélie and her brother Tzain end up spearheading a dangerous effort to bring magic back into the world after it was ripped away by a brutally oppressive, magic-fearing regime. Their plans eventually include a whole roster of individuals and groups that I don't want to spoil, but suffice it to say that Children of Blood and Bone is an adventure story that does not flinch from loss—gutting, bodily-felt loss. Adeyemi's immersive Yoruba magic system, her powerful (and fallible) characters, and the strife everyone on these pages endures while simply trying to keep themselves and their loved ones alive kept my heart rate elevated for all 500+ pages.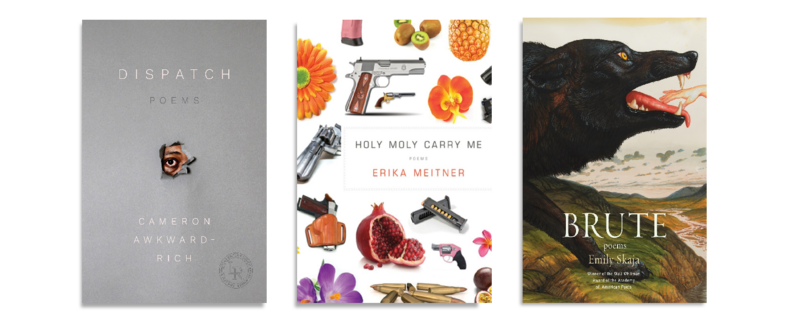 Alright, so, I (Bailey) am being a little cheeky and including a few more of my own personal recommendations this time around because I participated in the Sealey Challenge this year, which means I read a lot of poetry in the past ~30 days. I gotta talk about it! Here's a few of my favorites from the last month:
Dispatch: Poems
Cameron Awkward-Rich
Persea | December 2019 | $15.95

Cameron Awkward-Rich's wrenchingly frank poems get deep in my brain and stay there. This collection is a testament to the necessity—not just importance, but necessity—of being seen, especially for those (Black people, transgendered people) whose bodies are too often witnessed only after the experience of violence.

Holy Moly Carry Me
Erika Meitner
BoA Editions | September 2018 | $17.00
This collection is an investigative smorgasbord of topics—some beyond summary, but that doesn't stop Erika Meitner from diving deep. "There are things I will never know. There are stories past telling," she writes, even as she delves into into the histories of Appalachia, of parenthood, of womanhood, of being Jewish-American, and more.

Brute: Poems
Emily Skaja
Graywolf Press | April 2019 | $16.00

Emily Skaja hits all my poetry buttons: gnarly, musical, bawdy, bodily. With toothy determination, Brute walks along the low wall between intimacy and violence. If you read this book, I highly recommend reading it out loud—Skaja's words are magic on the page and music in the mouth. Plus, look at that cover!
---
? If any of these books sound interesting to you, give us a call (612-215-2540) or send us an email to see if we have any in stock!
? To see more reading suggestions from bookstore staff and from some of the bookstore's favorite authors, click here.
? To get bookseller recommendations and more fun literary stuff sent directly to your inbox, sign up for our bookstore newsletter.