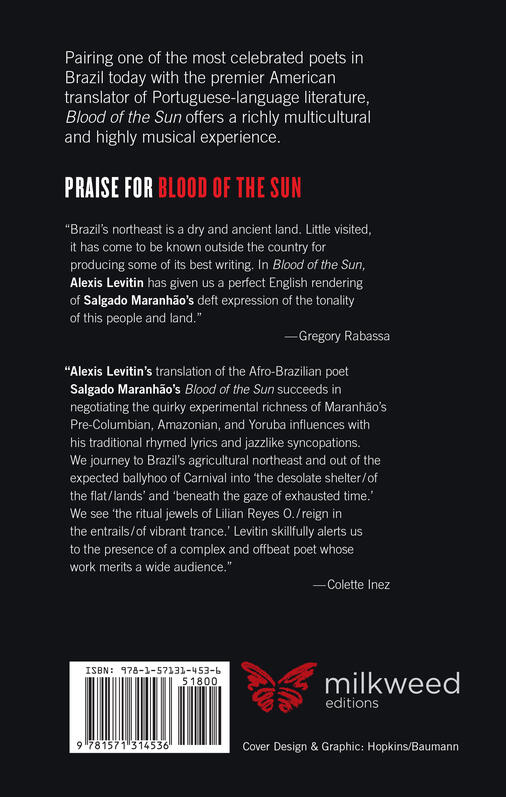 Blood of the Sun
"A complex and offbeat poet whose work merits a wide audience." —
COLETTE
INEZ
In Blood of the Sun, Salgado Maranhão—one of the most celebrated poets in Brazil today—weds the powerfully socio-political to the metaphysical.
Masterfully translated by Alexis Levitin and presented in both Portuguese and English, this collection plunges into the concrete and the conceptual. Butcher shops, sex, and machine guns sit in spirited dialogue with language, absence, and time. Cannibalism offers an opportunity to reflect on random killings and the plight of modern man. The resulting poems are varied as well as unified, brilliantly textured and layered. Maranhão's language sings in forms fixed and free, filled with a jazzlike musicality and fluted rhymes. "In paining me my pain makes me a dean," one poem reads. "Whose vice is claiming virtue as his own. / Am I saint or devil, or in between? / Am I a killer who is yet unknown?"
Sensually provocative, defined by an aesthetic at once traditional and postmodern, Blood of the Sun introduces a thrilling new voice to the English language.
Dimensions
5.5 × 8.5 × 0.44 in
Like this book? Sign up for occasional updates
Praise and Prizes