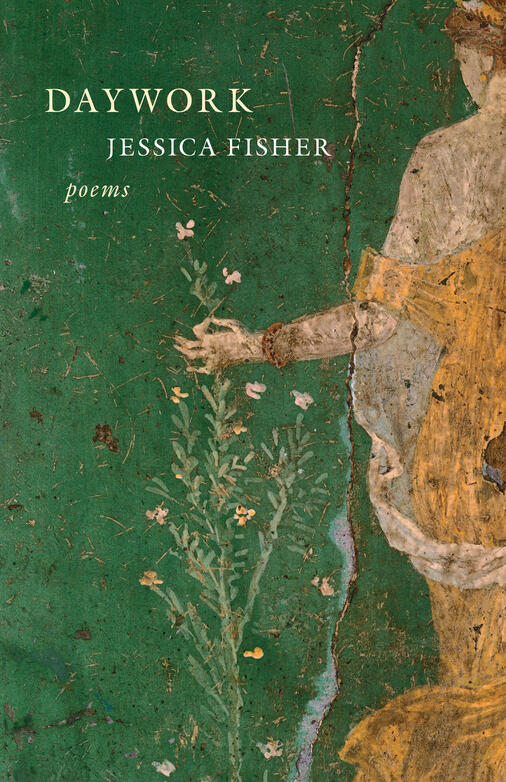 "Exquisitely intimate, philosophical, meticulous, and sensual."—
ARACELIS
GIRMAY
A meditation on art's longevity and the brevity of human life from the highly acclaimed, award-winning author of Frail-Craft and Inmost.
Jessica Fisher brings "the faraway close," through ruthless yet tender interrogations of possibility and permanence. Set against the backdrop of the fallen empire of Rome, Daywork takes its title from the giornata—the name in fresco painting for the section of wet plaster that can be painted in a single day, where each "day" is marked by the hidden seams in a finished painting.
In a voice that is as poised as it is unmistakably urgent, Fisher aims to uncover what adheres against the fabric of history, and what becomes effaced over time. Her search leads her to discover signs of ruin of a different kind, and her poems begin to coalesce around a single perilous realization: that time is not merely an agent of erasure. Time is also a tether, rendering violence, beauty, grief, and art separate merely by a matter of days. "So you see once again," she writes, "violence is to beauty / as the warp to the weft / always somewhere beneath."
Like the fresco itself, Daywork is committed to a time- and site-specific art, and to the daily work of creation. At once an elegiac meditation and a brave unearthing, this book expertly discerns the monumentalizing portrayals of history and its violences, while boldly illuminating other crucial accounts of everyday existence.
Keywords
poetry, giornata, fresco painting, poems on art, art, Rome, time, monuments, faraway close, beauty and violence, palimpsest, motherhood, daughters
Dimensions
8.5 × 5.5 × 0.25 in
Like this book? Sign up for occasional updates
Praise and Prizes