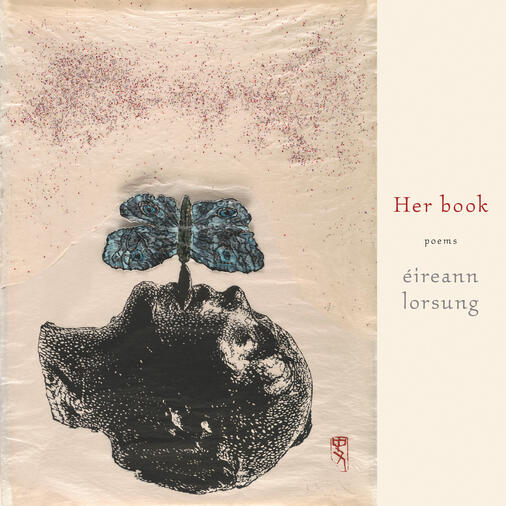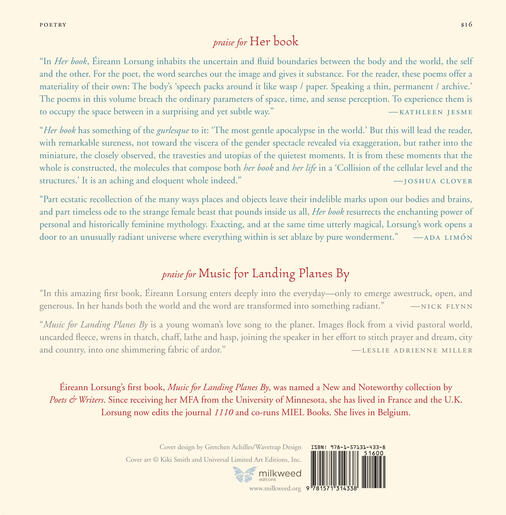 Her book
"Exacting, and at the same time utterly magical." —
ADA
LIMÓN
With intelligence and crystalline clarity, a chorus of female voices speaks through the poems in Her book, Éireann Lorsung's luminous second collection.
Full of youth, wonder, and imagination, Her book crosses distances and generations to celebrate the lives of women, their individual and shared experiences, and the bonds that bring them together. This is also a book about translation (of experience into art, of knowledge across time and space), conversation (with, for instance, work by the artist Kiki Smith), and friendship (especially those made during Lorsung's time in England). In these poems, the female body rises from a foundation of stars. Songbirds are cut from paper and stormy light. And letters arrive, and disappear, mysteries contained within.
"Part ecstatic recollection of the many ways places and objects leave their indelible marks upon our bodies and brains, and part timeless ode to the strange female beast that pounds inside of us all" (Ada Limón), Her book is both an inspired work from Lorsung and, fundamentally, her book—poems belonging to all women.
Dimensions
7 × 7 × 0.25 in
Like this book? Sign up for occasional updates
Praise and Prizes