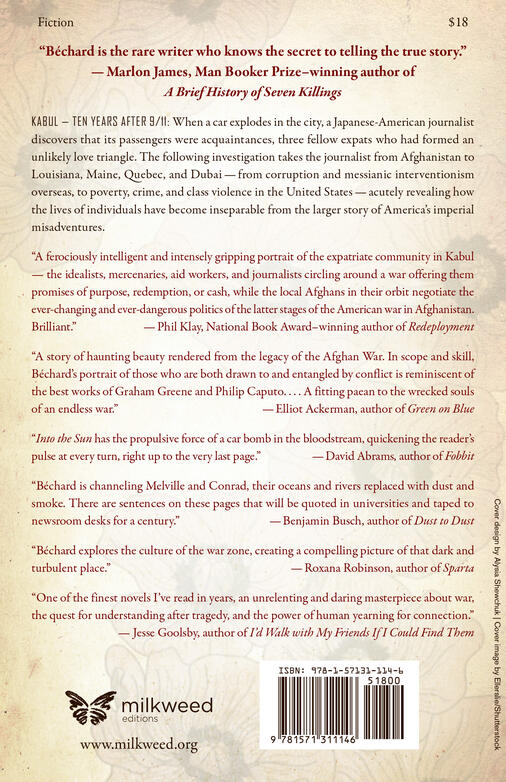 Into the Sun
"Ferociously intelligent and intensely gripping." —
PHIL
KLAY
When a car explodes in a crowded part of Kabul ten years after 9/11, a Japanese-American journalist is shocked to discover that the passengers were acquaintances—three fellow ex-pats who had formed an unlikely love triangle.
Alexandra was a human rights lawyer for imprisoned Afghan women. Justin was a born-again Christian who taught at a local school. Clay was an ex-soldier who worked as a private contractor. The car's driver, Idris, was one of Justin's most promising pupils—and he is missing. Drawn to the secrets of these strangers, and increasingly convinced the events that led to the fatal explosion weren't random, the journalist follows a trail that leads from Afghanistan to Louisiana, Maine, Québec, and Dubai. In the process, the tortured narratives of these individuals become inseparable from the story of America's imperial misadventures.
In this monumental novel, Deni Ellis Béchard draws an unsentimental portrait of those who flock to warzones, indelibly capturing these journalists, mercenaries, idealists, and aid workers. Béchard vividly brings to life the city of Kabul as well, along with the people who live there: the hungry, determined, and resourceful locals who are just as willing as their occupiers to reinvent themselves to survive.
Keywords
adventure, afghan war, afghanistan, aid workers, american imperialism, born again christian, danger, deception, double crosses, dubai, ex soldier, expatriots, explosion, human rights lawyer, idealists, ideals, imprisoned women, intrigue, japanese american, journalist, kabul, literary fiction, literary thriller, locals, louisiana, love triangle, maine, mercenaries, military, money, occupiers, political thriller, politics, private contractor, psychological, purpose, quebec, redemption, reporters, secrets, survival, transformation, war
Dimensions
5.25 × 8 × 1 in
Like this book? Sign up for occasional updates
Praise and Prizes