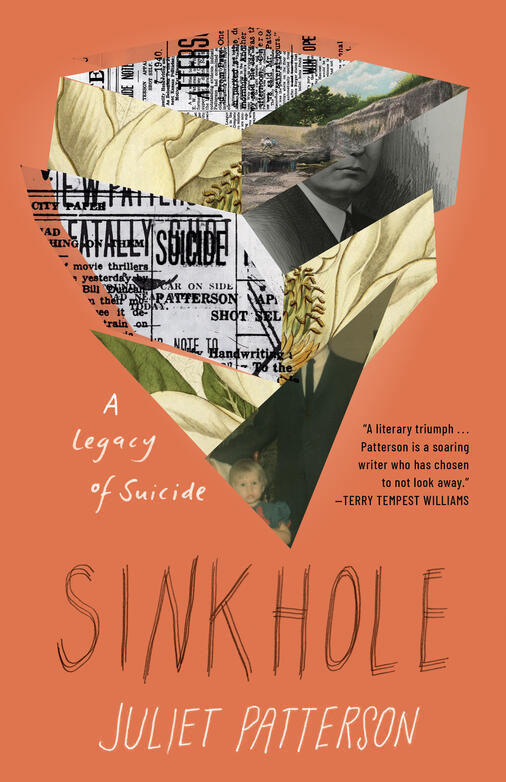 Finalist for the 2023 Minnesota Book Award
"A literary triumph…
Sinkhole
resurrects our dead from the sorrow and silences surrounding suicide and gives voice to the whys of their voiceless acts."—
TERRY
TEMPEST
WILLIAMS
Finalist for the 2023 Minnesota Book Award
A sublimely elegant, fractured reckoning with the legacy and inheritance of suicide in one American family.
In 2009, Juliet Patterson was recovering from a serious car accident when she learned her father had died by suicide. His death was part of a disturbing pattern in her family. Her father's father had taken his own life; so had her mother's. Over the weeks and months that followed, grieving and in physical pain, Patterson kept returning to one question: Why? Why had her family lost so many men, so many fathers, and what lay beneath the silence that had taken hold?
In three graceful movements, Patterson explores these questions. In the winter of her father's death, she struggles to make sense of the loss—sifting through the few belongings he left behind, looking to signs and symbols for meaning. As the spring thaw comes, she and her mother depart Minnesota for her father's burial in her parents' hometown of Pittsburg, Kansas. A once-prosperous town of promise and of violence, against people and the land, Pittsburg is now literally undermined by abandoned claims and sinkholes. There, Patterson carefully gathers evidence and radically imagines the final days of the grandfathers—one a fiery pro-labor politician, the other a melancholy businessman—she never knew. And finally, she returns to her father: to the haunting subjects of goodbyes, of loss, and of how to break the cycle.
A stunning elegy that vividly enacts Emily Dickinson's dictum to "tell it slant," Sinkhole richly layers personal, familial, political, and environmental histories to provide not answers but essential, heartbreaking truth.
Keywords
memoir, history, grief, suicide, death, parents, father, grandfather, legacy, inheritance, inherited trauma, children, poetry, Pittsburgh, Kansas, Minnesota, Minneapolis, st. paul, Midwest, mining, twentieth century, LGBTQ, environment, labor history, unions
Dimensions
8.5 × 5.5 × 0.5 in
Like this book? Sign up for occasional updates
Praise and Prizes