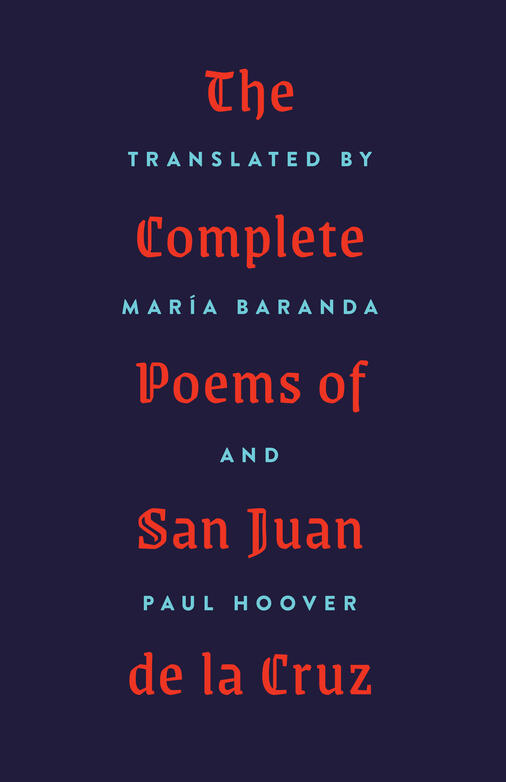 The Complete Poems of San Juan de la Cruz
"This is a gorgeously presented book with equally stunning verse."—
THE
MILLIONS
In 1578, during months of imprisonment for his reformist beliefs, San Juan de la Cruz composed a series of narrative poems inspired by the Biblical Song of Songs—and, the story goes, a popular love song overheard from his cramped cell—that take God as the beloved. Erotically charged, initially scandalous, his mystical poetry engages with the journey of the soul through the darkest trenches of suffering and despair toward an enlightened spiritual connection with God. For hundreds of years, these poems have resonated deeply with those who search for meaning in the dark, and have influenced generations of poets, artists, and philosophers.
This bilingual edition of the Complete Poems—including "Dark Night" and both the Sanlúcar and Jaén manuscripts of "Spiritual Canticle"—presents an intimate and exceptionally collaborative new translation from María Baranda and Paul Hoover. Baranda, one of the most distinguished Mexican poets of her generation, lends her deft hand with expansive, meditative poetry. Hoover—the accomplished American poet, editor, and translator—offers his dexterity with form and the possibilities of language. The product is uniquely faithful to image and idea, and loyal to the ecstatic lyricism of this canonical text.
A volume that hums with the soul's longing to find solace, The Complete Poems of San Juan de la Cruz is a collection to be treasured.
Keywords
San Juan de la Cruz; Saint John of the Cross; Song of Songs; mystic poet; Golden Age; Siglo de Oro; Spanish literature; dark night of the soul; dual-language; bilingual; poetry in translation
Dimensions
8.5 × 5.5 × 0.5 in
Like this book? Sign up for occasional updates
Praise and Prizes