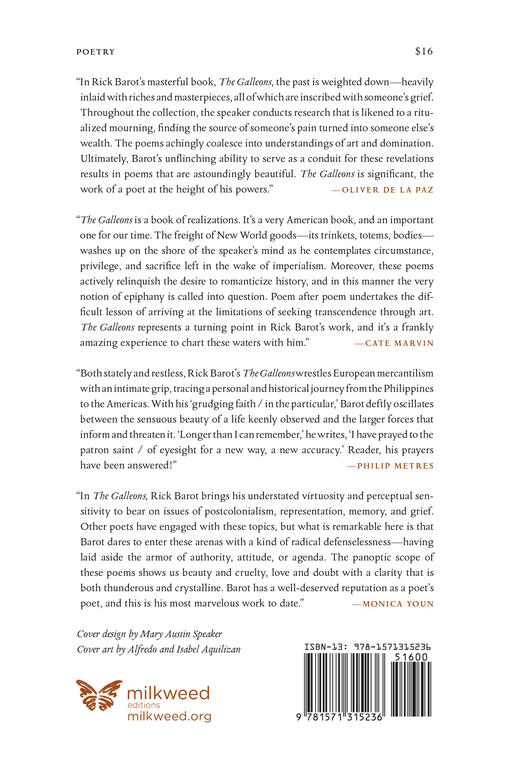 Longlisted for the National Book Award for Poetry
"A very American book, and an important one for our time." —
CATE
MARVIN
Longlisted for the National Book Award for Poetry
Finalist for the Pacific Northwest Book Award
A New York Public Library Best Book of 2020
For almost twenty years, Rick Barot has been writing some of the most stunningly crafted lyric poems in America, paying careful, Rilkean attention to the layered world that surrounds us. In The Galleons, he widens his scope, contextualizing the immigrant journey of his Filipino-American family in the larger history and aftermath of colonialism.
These poems are engaged in the work of recovery, making visible what is often intentionally erased: the movement of domestic workers on a weekday morning in Brooklyn; a veteran of the war in Afghanistan, fondly sharing photos of his dog; the departure and destination points of dozens of galleons between 1564 and 1815, these ships evoking both the vast movements of history and the individual journeys of those borne along by their tides. "Her story is a part of something larger, it is a part / of history," Barot writes of his grandmother. "No, her story is an illumination // of history, a matchstick lit in the black seam of time."
With nods toward Barot's poetic predecessors—from Frank O'Hara to John Donne—The Galleons represents an exciting extension and expansion of this virtuosic poet's work, marrying "reckless" ambition and crafted "composure," in which we repeatedly find the speaker standing and breathing before the world, "incredible and true."
Dimensions
5.5 × 8.5 × 0.25 in
Like this book? Sign up for occasional updates
Related Media
Video URL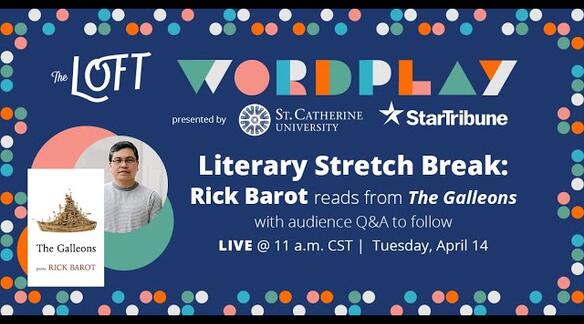 Watch: Loft Wordplay: Literary Stretch Break with Rick Barot | The Loft Literary Center
Author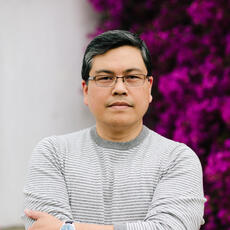 Rick Barot is the author of The Galleons, as well as three previous volumes of poetry: The Darker Fall; Want; which was a finalist for the Lambda Literary Award and won the 2009 Grub Street Book Prize; and Chord. Chord received the UNT Rilke Prize, the PEN Open Book Award, and the Publishing Triangle's Thom Gunn Award. It was also a finalist for the Los Angeles Times Book Prize. He is the poetry editor for New England Review. He lives in Tacoma, Washington, and directs The Rainier Writing Workshop, the low-residency MFA program in creative writing at Pacific Lutheran University.
Praise and Prizes
"In his impressive fourth collection, Lambda Literary Award–winning poet Barot (Chord) critiques imperialism and capitalist excess through the recurring symbol of the galleons that sailed the Spanish conquistadors to the New World. 'Galleons' poems feature lists of plundered objects, names of ships, and even the poet's Filipina mother's life story. Each is a journey through Barot's labyrinthine thought process; rarely does he go where you'd expect … Barot skillfully synthesizes historical themes with a personal vision that establishes a meaningful relationship to the reader."

Publishers Weekly, Starred Review

"The Galleons reckons with origins and histories, both personal and public, on a global scale … [it] sweeps the reader along in an unfolding narrative tide."

"This ambitious new work by multi-award-winning poet Barot (Chord) presents his family's immigration from the Philippines to America as part of a larger investigation: What is history, and how does it comprise our stories? … The result is a quietly assured unwinding of a key aspect of human history."

Library Journal, "Top Spring Poetry"

"My favorite poetry collection so far of 2020 … There's something so clean and compressed and illuminating about each of the book's meditations in couplets that once you finish one, you want to read another."

"I've long admired Barot's writing, and this is his strongest work to date: the poems are psychologically and emotionally complex, while never losing their essential lyricism … It's a wonderful book."

"The Galleons, rich with somber beauty and insight, concludes that the spinning threads in the vortex of history are after all made by ordinary bodies: they engender complex lineages, loves, wars, sorrows, triumphs, and losses."

"The Galleons itself, then, is a living ledger. One that recounts stories and histories of immigration, familial and personal loss, and the speaker's own trajectory as a writer. The ways in which Barot balances the temporal, observational, and intimate scales of the collection is a skill worth admiring and reading again and again."

Michigan Quarterly Review

"Traversing historic truths and incisive observations of the ordinary, these poems are their own education, taking on isolation and identity, place and placelessness, and the lasting imprints of colonization … In this critical fourth book, Barot lets his readers see themselves as belonging to this strange Earth while acknowledging that those around us are, quite possibly, the teachers we didn't know we needed."

"In thinking about elegiac layers, this book reverberates with the spectral thread of personal and collective history. Opening up 'the marrow of geography,' The Galleons is Barot's most vulnerable and lyrically stunning book to date."

"Each poem offers its insights, its particulars, its questions so wonderfully, I leave the book overwhelmed and renewed: the world's muchness, which can so often feel unbearable, is also key to its splendor. To see even part of it with Barot's acuity is a gift."

"Rick Barot builds poems with brief vignettes; his compressed, poignant stories and histories work like images because they function as a tonal ambiance, as squares in a patchwork quilt. The poems in each of Barot's four collections complicate and expand each other: the speaker's personal memories and experience quickly ripple out to become historical, global, and political observations."

"Research, Barot suggests, is an act of grieving, an act of honoring, an act of carrying the memory of the dead into the future with a spirit of responsibility and stewardship … His practice of honest humility is among the great and beautiful gifts The Galleons brings to readers."

"A master poet, Barot's poems stretch horizontally across history, like the Spanish ships that sailed in the name of colonialism, capitalism and conquest … Barot writes with the precision of a jeweler and the scope of a space traveler."

Victoria Chang, Los Angeles Times

"Barot's poems are graceful, expansive and composed with incredible care, moving through and into unexpected places … His poems are very much a space of deep attention, attempting to listen and step out of the way, working to understand just what it is he is hearing."

Rob McLennan, on his blog

"In Rick Barot's masterful book, The Galleons, the past is weighted down—heavily inlaid with riches and masterpieces, all of which are inscribed with someone's grief. Throughout the collection, the speaker conducts research which is likened to a ritualized mourning, finding the source of someone's pain turned into someone else's wealth. The poems achingly coalesce into understandings of art and domination. Ultimately, Barot's unflinching ability to serve as a conduit for these revelations results in poems that are astoundingly beautiful. The Galleons is significant, the work of a poet at the height of his powers."

"The Galleons is a book of realizations. It's a very American book, and an important one for our time. The freight of New World goods—its trinkets, totems, bodies—washes up on the shore of the speaker's mind as he contemplates circumstance, privilege, and sacrifice left in the wake of imperialism. Moreover, these poems actively relinquish the desire to romanticize history, and in this manner the very notion of epiphany is called into question. Poem after poem undertakes the difficult lesson of arriving at the limitations of seeking transcendence through art. The Galleons represents a turning point in Rick Barot's work, and it's a frankly amazing experience to chart these waters with him."

"Both stately and restless, Rick Barot's The Galleons wrestles European mercantilism with an intimate grip, tracing a personal and historical journey from the Philippines to the Americas. With his 'grudging faith / in the particular,' Barot deftly oscillates between the sensuous beauty of a life keenly observed and the larger forces that inform and threaten it. 'Longer than I can remember,' he writes, 'I have prayed to the patron saint / of eyesight for a new way, a new accuracy.' Reader, his prayers have been answered!"

"In The Galleons, Rick Barot brings his understated virtuosity and perceptual sensitivity to bear on issues of postcolonialism, representation, memory, and grief. Other poets have engaged with these topics, but what is remarkable here is that Barot dares to enter these arenas with a kind of radical defenselessness—having laid aside the armor of authority, attitude, or agenda. The panoptic scope of these poems shows us beauty and cruelty, love and doubt with a clarity that is both thunderous and crystalline. Barot has a well-deserved reputation as a poet's poet, and this is his most marvelous work to date."

"At one point in The Galleons, Rick Barot self-deprecatingly writes, 'Aiming for a muscular / logic that could be followed by a reader's mind / like an old stone wall running along a landscape, I got / nothing so solid or continuous.' Solid or not, though, the logic these poems follow so often leads to surprise and delight. Whether using docupoetics to contextualize history, or intimate narrative to make the ordinary resonate, Barot's poems coalesce to form a memorable investigation of colonialism and immigrations. The Galleons is a remarkable book."

"Rick Barot's newest book is a beautiful, understated collection of poems inhabiting the liminal spaces between history, memory, and the present. Structured around a series of a poems titled 'The Galleons,' Barot explores the history of his own Filipino-American family and the role that trade and colonialism played in their journey. He interweaves these larger themes with profoundly beautiful detail of the everyday: flowers, a photo of someone's dog, the way the stone in an old church smells. Deeply layered and full measured insight, The Galleons is a wonderful collection of poetry."

"In his latest collection, Rick Barot tackles a dizzying expanse of history, largely focusing on the lingering effects of colonialism while gradually revealing his own family's story as immigrants from the Philippines. (My breath caught when I encountered the stark simplicity and weight of the central poem, 'The Galleons 6'.) Howver, what most stood out to me was his 'grudging faith / in the particular'—how he positions the beauty and significance of the individual within the globe he crisscrosses and moments he ponders. Layered and lyrical, it's the closely observed details—the sound of the ocean beyond a meadow, jars of tamarind listed in one wrecked ship's manifest, say—that make these poems come alive and invite the reader into the journey Barot is embarking on. With language that is uncomplicated and unassuming, he mounts an internal exploration and an outward voyage, one that is singular and sweeping, and ultimately hopeful of the human spirit, those unrepeatable sparks that reside within all of us."
You Might Enjoy
Based on this book, we recommend you try…
Blog Post
Julian Randall — 10/25/2019
Happy October Milkweed fans and friends! I'd like to introduce the second blog series that I will be curating this…
Event
Join David for his reading from his 2023 collection, Ice for Smartish Pace's "Hot L" Reading Series. With poet Laura…