Thursday, July 12, 2018 - 7:00pm
1011 South Washington Avenue
Open Book | 1st Floor
United States
FREE and all are welcome.
Join us in the bookstore for this reading and reception with esteemed poets and literary citizens Joseph O. Legaspi, Jennifer Kwon Dobbs, and Milkweed's own Chris Santiago. Book signing to follow. LEARN MORE.
---
"Joseph O. Legaspi's Threshold celebrates the wondrous space in which the masculine and feminine energies enrich and unnerve a young man's path to a fully realized self, "immaculate / yet ravaged, tarnished yet holy." These exquisite poems invite us to cross into the "periphery / of sanctuary and danger," farther into the rooms of family and culture, in order to find nourishment in breath, beauty, desire, and love."—Rigoberto González​
Threshold enters a landscape of seemingly perpetual in-between, crossing from conventionality to queerness; exploring the fluidity of gender; and translating the hard hold of family. The collection meditates on passageways and what it means to arrive at, and pierce through, thresholds—between countries, past and future, and the threat and security of love.
JOSEPH O. LEGASPI is the author of the poetry collections Threshold and Imago, both from CavanKerry Press; and three chapbooks: Postcards (Ghost Bird Press), Aviary, Bestiary (Organic Weapon Arts), and Subways (Thrush Press). Recent works have appeared in POETRY, New England Review, World Literature Today, Beloit Poetry Journal, and the Academy of American Poets' Poem-a-Day. He cofounded Kundiman (www.kundiman.org), a nonprofit organization serving generations of Asian American writers and readers.
---
"A debut collection that is a spare, elegant engagement with language. His linguistic savvy and precision truly stand out."—Publishers Weekly
Inspired by the experiences of the "blood stranger"—the second-generation immigrant who does not fully acquire the language of his parents—Tula paints the portrait of a mythic homeland that is part ghostly underworld, part unknowable paradise. Language splinters. Impossible islands form an archipelago across its landscape. A mother sings lullabies and a father works the graveyard shift in St. Paul—while in the Philippines, two dissident uncles and a grandfather send messages and telegrams from the afterlife. Deeply ambitious, a collection that examines the shortcomings and possibilities of both language and poetry themselves, Tula announces the arrival of a major new literary talent.
CHRIS SANTIAGO is the author of Tula, winner of the 2016 Lindquist & Vennum Prize for Poetry, selected by A. Van Jordan. His poems, fiction, and criticism have appeared in FIELD, Copper Nickel, Pleiades, and the Asian American Literary Review. He holds degrees in creative writing and music from Oberlin College and received his PhD in English from the University of Southern California. The recipient of fellowships from Kundiman and the Mellon Foundation/American Council of Learned Societies, Santiago is also a percussionist and amateur jazz pianist. He teaches literature, sound culture, and creative writing at the University of St. Thomas. He lives in Minnesota.
---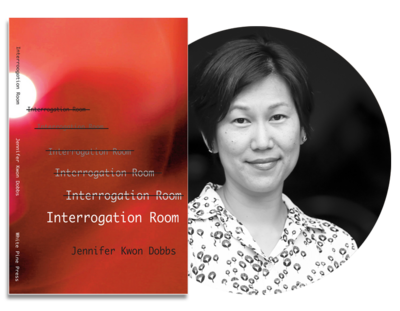 "Jennifer Kwon Dobbs writes visceral and intelligent poems about an unending war and its many consequences, for Koreans and Americans, for women and children, for orphans and adoptees. Her work is a painful, eloquent reminder about how dividing a country also divides families and selves." —Viet Thanh Nguyen
In Interrogation Room, Jennifer Kwon Dobbs's second collection, poems that restore redacted speech and traverse forbidden borders suture together divided bodies, geographies, and kinships to confront the unending Korean War's legacies of forced distances and militarized silences. Kwon Dobbs powerfully entwines uneasy, tentative reconciliations among South Korea's relatives in the North, her birth family in the South, and the transnational diaspora to which she belongs to resist the war's deprivations of language and imagination.
JENNIFER KWON DOBBS is associate professor of Creative Writing and program director of Race and Ethnic Studies at St. Olaf College. Her poetry collections include Paper Pavilion (White Pine Press 2007), Interrogation Room (White Pine Press 2018), and the chapbooks Notes from a Missing Person (Essay Press 2015) and the German-translated Necro Citizens (forthcoming). A recipient of grants from the Daesan Foundation and Minnesota State Arts Board, among others, she is currently co-editing an anthology of auto-critical writing on kinship.