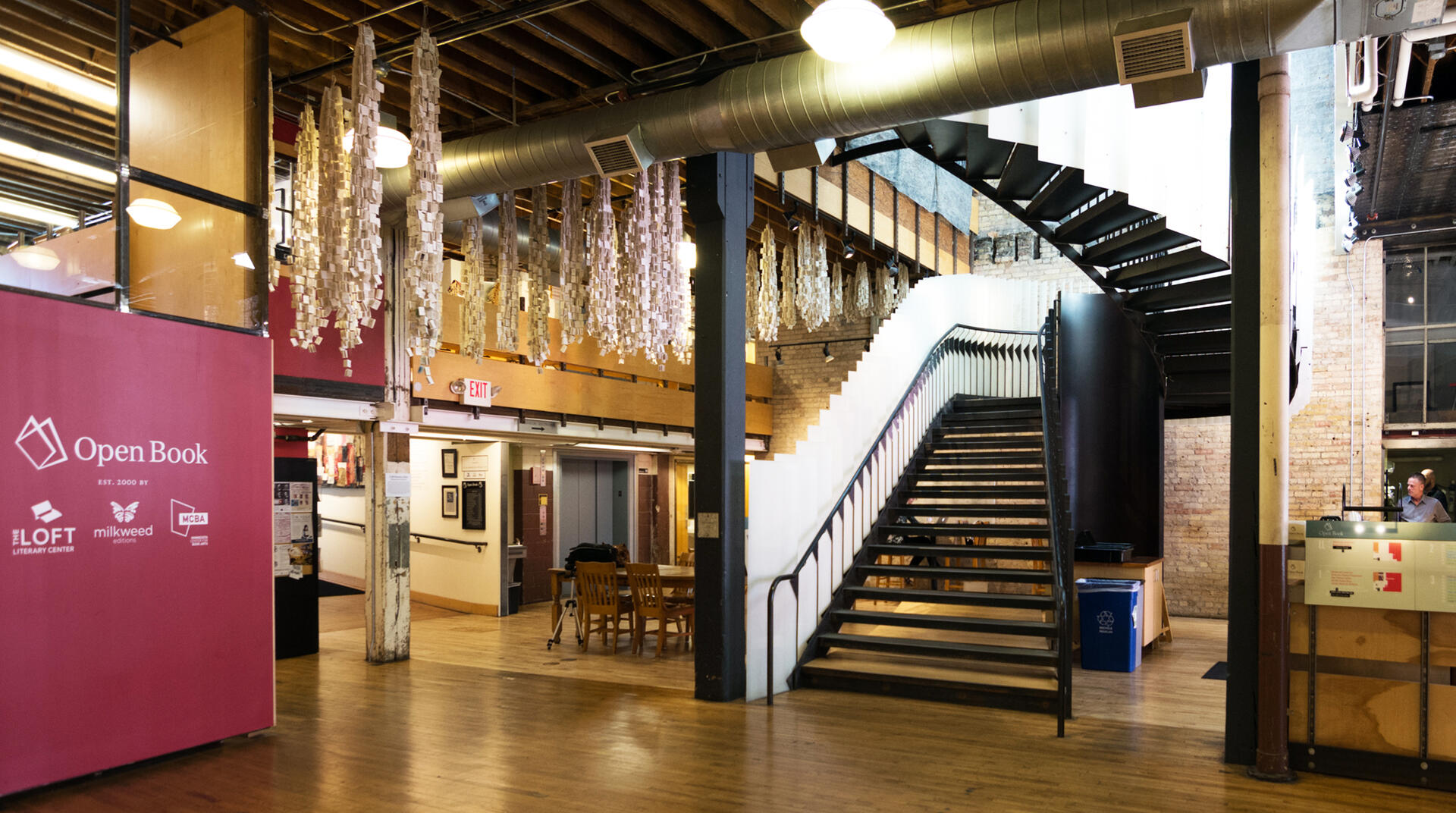 Launch your career in book publishing
We are pleased to open applications for the Milkweed Fellowship until 12:59 PM on August 15, 2022. 
Please see below for details and application instructions.
The Milkweed Fellowship is grounded in our belief that books have the potential to change the way we see the world, and that equity is essential to a vibrant, diverse, and empowered literary ecosystem.
This paid, one- to two-year immersion program is designed to offer the tools, experience, and exposure necessary to pursue a career in book publishing. Intended to provide an alternative route to leadership in an industry where the prerequisite to an entry-level position is typically an unpaid internship, this learning-oriented position seeks to provide entry to those historically underrepresented among workers in book publishing—indigenous, people of color, LGBTQIA+, and those with disabilities—so they may advance, discover, and champion transformative literature for years to come. This position is based on-site in our Minneapolis offices and is full time (non-exempt, 40 hours per week, for 12–24 months), beginning in September 2022 or earlier. Compensation includes a salary of $37,500 per year, generous paid time off, and health and dental benefits.
Milkweed Editions was formed in 1980 in Minneapolis, Minnesota. Our mission is to identify, nurture, and publish transformative literature, and to build an engaged community around it. As a mission-driven independent book publisher, we publish 20-24 new books of literary fiction, poetry, and nonfiction each year, as well as continuing to print and support authors published in prior years such as Robin Wall Kimmerer, Ada Limón, Jos Charles, Elizabeth Rush, and J. Drew Lanham. Our books have recently won the National Book Critics Circle Award, the LA Times Book Prize, and been named finalist for the National Book Award and the Pulitzer Prize. Milkweed Editions is located in Open Book, a literary and book arts center that also houses Milkweed Books, our independent bookstore. Open Book is accessible by light rail and bus lines. 
Responsibilities & Opportunities
The 2022–2023 Milkweed Fellow will be offered a holistic publishing experience, working primarily on our nonfiction list and our Seedbank series, which was developed to preserve cultural diversity and expand understanding of our relationship with the more-than-human world. The Fellow will take part in all stages of our publication process, and will be closely trained for some or all of the following responsibilities. Staff mentors will work with the Fellow to develop specific goals, discover the Fellow's strengths, and, as appropriate, we will tailor project assignments and experiences to individual interests and skills. Key responsibilities may include:
Read the Seedbank backlist and associated research 
​​Read, evaluate, and discuss submitted manuscripts
Research and solicit submissions and potential collaborators
Assist in drafting contracts and tracking payments to authors
Work with our editors to provide feedback on manuscripts under development
Proofread and fact-check manuscripts
Draft promotional and descriptive copy and related digital content for forthcoming titles
Partner with staff across team to assist on the promotion, distribution and design of new Seedbank titles
Research potential partners and new sales/event/media outlets
Support outreach, fundraising, and community engagement efforts
Participate in staff meetings
Correspond with authors, agents, contractors, partners, and other publishers
Research and write grant proposals
An avid reader with abundant enthusiasm for literary community and the business of publishing
Demonstrated interest and fluency in other cultures and languages, and in environmental literature and studies
Excellent written, verbal, and organizational skills
A healthy sense of initiative
A collaborative, enthusiastic team spirit
A commitment to increasing access to and equity in literature
Please let us know if you have special experience or interests in any of the following (non-required) areas: academic research, translation, grant writing, ecological community building, or anything that you see as relevant to this fellowship experience.
Physical Demands
Must be able to talk on and manipulate a phone, participate in meetings, type on a keyboard, sit for extended periods, and move about an accessible office, but we are open to making this position accessible for those for whom these demands may present a barrier, using the resources available to us. We're listening.
To Apply
Applicants should submit the application materials listed below as one combined PDF via Submittable. Please include your last name in the file name of your application document (i.e., Taylor_Application.pdf). Applications will be accepted until 11:59 p.m. CDT on Monday, August 15, 2022. Learn more about Milkweed at our website.
Cover letter addressed to Meilina Dalit, Executive Assistant, including answers to the following application questions (up to 2 pages single spaced):
Why are you interested in working in the publishing industry and what areas are you most curious about?
What are your career ambitions and what would help you achieve them?
Résumé (1–2 pages)
Writing sample: Write about the potential for literature to impact the future of humanity and the more-than-human world. Please cite specific texts. (1 page, single spaced).