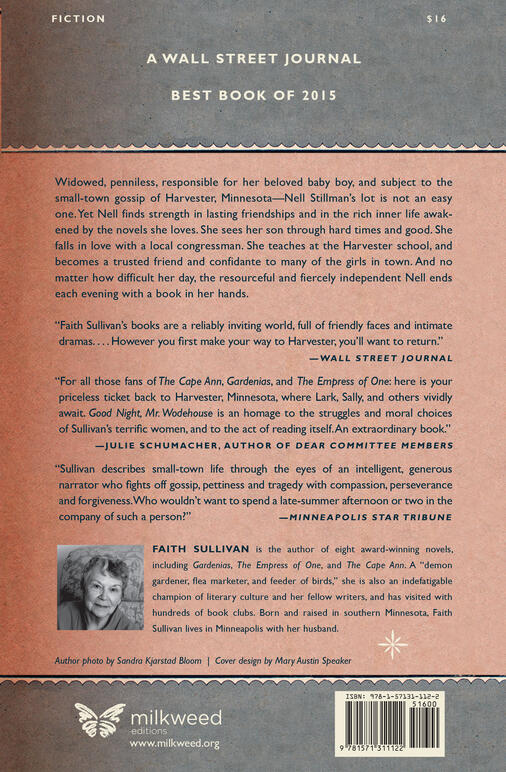 Good Night, Mr. Wodehouse
A Wall Street Journal Best Book of 2015
"Faith Sullivan describes small-town life through the eyes of an intelligent, generous narrator who fights off gossip, pettiness and tragedy with compassion, perseverance and forgiveness."—
MINNEAPOLIS
STAR
TRIBUNE
When Nell Stillman's boorish husband dies soon after they move to Harvester, Minnesota, she is left alone, penniless yet responsible for her beloved baby boy, Hilly. Not an easy fate in small-town America at the beginning of the twentieth century.
But in the face of nearly insurmountable odds, Nell finds strength in lasting friendships, and in the rich inner life awakened by the novels she loves. She falls in love with John Flynn, a charming congressman who becomes a father figure for Hilly. She teaches at the local school and volunteers at the public library, where she meets Stella Wheeler and her charismatic daughter, Sally. She becomes a trusted friend and confidante to many of the girls in town, including Arlene and Lark Erhardt. And no matter how difficult her day, Nell ends each evening with a beloved book in her hands.
The triumphant return of a great American storyteller to "a reliably inviting world" (Wall Street Journal), Good Night, Mr. Wodehouse celebrates the strength and resourcefulness of independent women, the importance of community, and the transformative power of reading.
Keywords
20th century, book clubs, book lovers, community, early, family, friendship, heroine, historical, independent, inspiring, librarians, libraries, library, love, Midwestern, Minnesota, mothers, novels, prairie, reading, romance, schoolteachers, single, small town, strong, sweet, uplifting, widow, women
Dimensions
5.5 × 8.5 × 1.1 in
Like this book? Sign up for occasional updates
Praise and Prizes