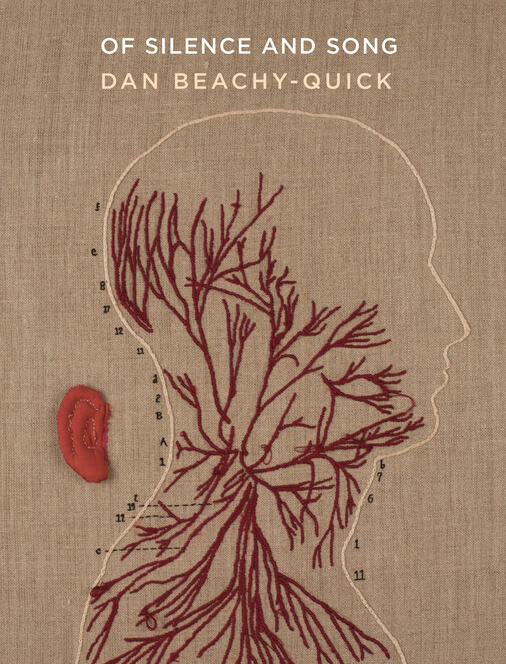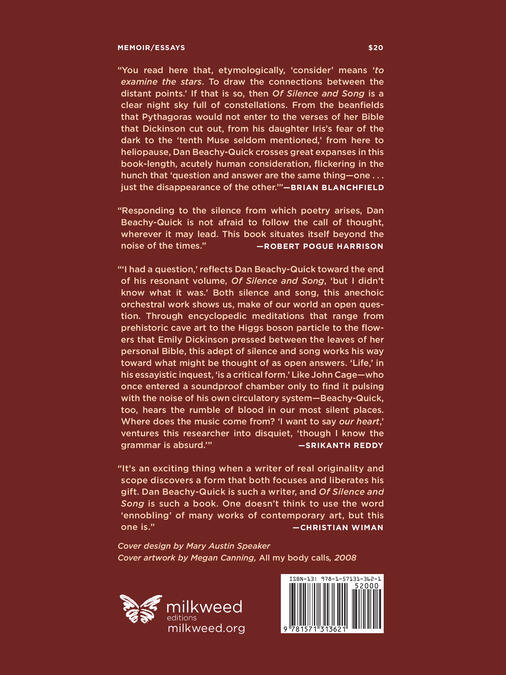 Of Silence and Song
"Responding to the silence from which poetry arises, Dan Beachy-Quick is not afraid to follow the call of thought, wherever it may lead. This book situates itself beyond the noise of the times."—
ROBERT
POGUE
HARRISON
Midway through the journey of his life, Dan Beachy-Quick found himself without a path, unsure how to live well. Of Silence and Song follows him through the forest of his experience, on a classical search for meaning in the world and in his particular, quiet life.
In essays, fragments, marginalia, images, travel writing, and poetry, Beachy-Quick traces relationships and the identities through which he sees the world. As father and husband. As teacher and student. As citizen and scholar. And as poet and reader, wondering at the potential and limits of literature, and guided by his studies in ancient Greek.
Of Silence and Song finds its inferno—and its paradise—in moments both historically vast and nakedly intimate. Our world's disappearing bees, James Eagan Holmes, Columbine, and the persistent, unforgivable crime of slavery—these are the circles of hell Beachy-Quick wanders, but cannot escape. And yet he encounters redemption in the art of Marcel Duchamp, the pressed flowers in Emily Dickinson's Bible, and long walks with his youngest daughter, Iris. "The litany in hell is weeping, weeping," he writes, "but there are other litanies."
Curious, earnest, and masterful, Of Silence and Song is an unforgettable exploration of the human soul.
Like this book? Sign up for occasional updates
Praise and Prizes