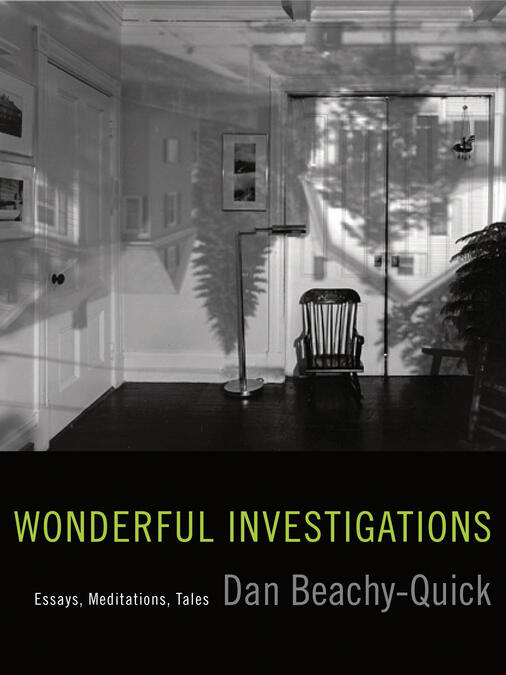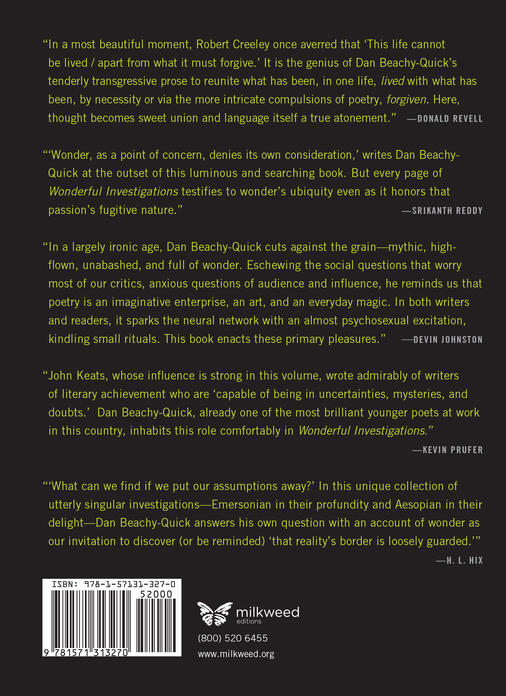 Wonderful Investigations
Essays, Meditations, Tales
"One of the preeminent American visionaries of our moment." —
G. C.
WALDREP
From "one of America's most significant young poets" (Lyn Hejinian), an exceptional book of nonfiction and fables that provides a walking tour of the creative mind.

In Wonderful Investigations, Dan Beachy-Quick broaches "a hazy line, a faulty boundary" between our daily world and one rich with wonder; a magical world in which, through his work as a writer, he participates with a singular combination of critical intelligence and lyricism. Touching on the works of Emerson, Thoreau, Proust, and Plato, among others, Beachy-Quick outlines the problem of duality in modern thought—the separation of the mind and body, word and referent, intelligence and mystery, human and natural—and makes the case for a fuller kind of nature poetry, one that strives to overcome this false separation, and to celebrate the notion that "wonder is the fact that the world has never ceased to be real."
Luminous, generous, and unceasingly curious, Wonderful Investigations is a rich investigation of what it means to think, read, write, and learn.
Dimensions
6 × 8 × 0.56 in
Like this book? Sign up for occasional updates
Praise and Prizes