Milkweed's Holiday Gift Guide 2021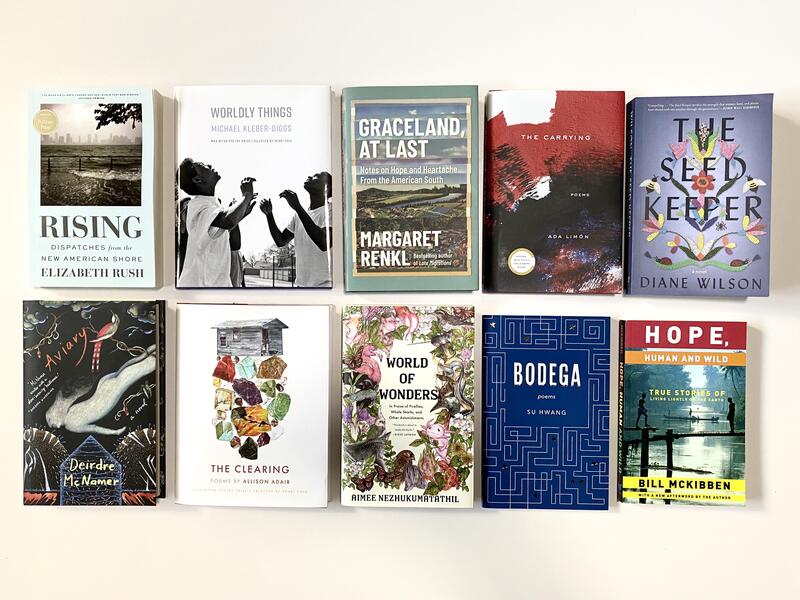 We are in the heart of gift-giving season. Summer is turning over to fall and the holidays are approaching. This is one of our favorite times of the year, and many of us on staff are mapping out the gifts we'll give to our friends, family members, partners, and creative collaborators in the coming months. Books are our favorite gifts to give; they inspire, motivate, instill wonder, challenge, and change the way we see the world.
This year, you may have heard that the book industry is tangled up in global supply chain challenges. We are joining the chorus of booksellers, authors, professionals and others in our business community to encourage readers to buy early, and to broaden gift lists beyond bestsellers. Our engagement, marketing and publicity team has happily compiled a list of nonfiction, poetry, and fiction titles to enliven your lists—and perhaps to add to your own bookshelves.
Keep reading to learn more about our staff recommendations, and browse all of our available titles here. We encourage you to place your orders by Thanksgiving to ensure you receive your gifts—*ahem* don't sleep on this lovely Robin Wall Kimmerer-inspired tote—before or by December 24. (If you order after this date, we cannot guarantee that your package will arrive by December 24.) We're grateful when readers buy directly from us; when you buy direct, you support our organization, our community, and our writers.
NONFICTION
Rising: Dispatches from the New American Shore by Elizabeth Rush
Elizabeth Rush's first work of nonfiction is a powerful, vulnerable, and important book about the impact of climate change in American coastal communities. Rush considers herself a poet first, and it shows—Rising is more interested in human voices and experiences than heady jargon or complex statistics. There's an impressive amount of helpful research tucked alongside first-person accounts from Rush's interviews with people who are directly affected by sea level rise, from Pensacola to San Francisco to Isle de Jean Charles, Louisiana. And while its subject is sea level rise, Rising is also a book about deeply loving your home, even as you are forced to leave. This delicate and deliberate balance of intimacy and research has resulted in a Pulitzer Prize finalist nomination for Rush, and the book is currently Science Friday's Fall Book Club selection. Rising is the perfect gift for the activists, writers, artists, outdoor enthusiasts, and travelers in your life. —Yanna, Marketing Director
Hope, Human and Wild: True Stories of Living Lightly on Earth by Bill McKibben
Bill McKibben is a big name in climate and eco-activism right now. He has appeared on Jane Fonda's Fire Drill Fridays show multiple times, frequently uses his Twitter to share new voices and ideas in the climate-activist sphere, and you can read his calls to action in The New Yorker, Rolling Stone, and Orion Magazine, to name a few. Before reaching these new heights in notoriety, McKibben wrote Hope, Human and Wild: True Stories of Living Lightly on Earth over 25 years ago, and Milkweed reissued the book in 2007. Just when the world started to look dark, these reports carried in a sense of optimism. We learn about Curitiba, a Brazilian metropolis where public transit and amenities aren't dirty words, and city planning is valued to support the needs of the people, not just the individual. We turn to Kerala, India, where some of the poorest people in the world place the ultimate value on education and reach 100% literacy, and the shared distribution of goods and a strong sense of community isn't feared. McKibben doesn't offer these places as utopias, but rather chances to expand our ideas of a happy, sustainable life. This is a book for the world-traveler stuck at home, the college student who's not afraid to shake things up, or the tired citizen looking for reassurance: this isn't the end. Humankind can and will do so much more. —Shannon, Sales & Operations Manager
World of Wonders: In Praise of Fireflies, Whale Sharks and Other Astonishments by Aimee Nezhukumatathil
Aimee's poetic vignettes of flora and fauna that illuminate her life's story are delightful and poignant. You can read one or two chapters when you have a moment, or Netflix-style binge through in one sitting. I found myself reading aloud with my four-year-old who'd been drawn in by the illustrations and became curious about the creatures—the narwhal's horn is a tooth that helps them see?! The perfect gift for the sometimes-reader in your life (you know, the one lamenting that they "don't have time to read"), for the budding naturalist next door, for the lover of pretty things in your office, and for your own library. #treatyoself—Katie Hill, VP Engagement
Graceland, At Last: Notes on Hope and Heartache From the American South by Margaret Renkl
I can't stop recommending this book. While admittedly not wanting to revisit many of the challenging political, societal, and ecological chapters of the recent past, it caught me by surprise how differently I viewed these topics (and "The South," in general) after reading the heartfelt, gracious, and nuanced words of Margaret Renkl's New York Times columns. Elegantly organized thematically rather than chronologically, these essays intertwine her keen sense of the natural world with a seemingly limitless respect for hope and human decency in the face of harsh realities. This book is for the one on your list most in need of a new perspective. —Katie Hill, VP Engagement 
POETRY
Worldly Things by Michael Kleber-Diggs
In one of my favorite poems in Michael Kleber-Diggs's debut collection of poems Worldly Things, the speaker writes, "Let me bloom and recede, grow / and decay, let me be lovely yet / temporal, like memories, like mahogany." Kleber-Diggs's poems read like little prayers or meditations or like a conversation between two friends, and I promise you, if you don't think poetry is for you, Worldly Things will change your mind. Kleber-Diggs's voice is earnest and generous, joyful and unafraid to ask big questions. He writes poems about the blessings of fatherhood, the grief of losing a father young, the cruelties of racism and police brutality, the possibilities of radical kindness. Daughters, buy this book for your dad; dads, buy this book for your daughter. Partners for partners, community organizers for neighbors—the list goes on. This book is for everyone. —Yanna, Marketing Director
The Carrying: Poems by Ada Limón
I'm grateful every day for the words of Ada Limón, who I see as one of the most gracious poets in a generation—and I know I'm not alone in that thought. The Carrying fills me with highs and lows feelings of being alive. Love. Grief. Longing. Pain. Anger. Soak in it all, and don't be afraid to feel those deep emotions. Limón shares her experience with infertility, death, chronic pain, and political dread, while also revealing tender moments of light and hope. These poems contain a fierce pulse of motherhood and protection on display in one of the most well-known poems of the collection, The Raincoat. If you let them, these words will prompt a tear or two as you think of those special people who were always in your corner. Buy The Carrying for the bold thinkers, chronically in pain, or dire romantics in your life to leave them with this message: "Look, we are not unspectacular things. / We've come this far, survived this much. What / would happen if we decided to survive more? To love harder?" —Shannon, Sales & Operations Manager 
The Clearing: Poems by Allison Adair
The Clearing—Allison Adair's debut collection of poetry—is an astonishing work of excavation. Adair plumbs the literal and figurative ground for the stories buried beneath our feet, delivering poems rich with electric imagery, narrative urgency, and the dark undercurrents of folklore. Eerily attuned to the wilderness within and beyond the body, Adair leads the reader into strange territories while remaining deeply embedded in intimate experiences of grief and transformation. Give this lush, luminous book to the readers in your life who love imaginative, feminist, story-driven poetry (I guarantee they call you to read these poems aloud). —Claire, Publicist
Bodega: Poems by Su Hwang
In this collection, Su Hwang illuminates the BIPOC, immigrant, and working-class experience. The bodega stands for much more than a store-front and backdrop. It stands for an essential placeholder in a community and as part of a coming-of-age story. Human lives intersect throughout the collection in the most miraculous and mundane circumstances to weave exceptionally truthful diction. —Milan, Marketing & Publicity Associate
FICTION
The Seed Keeper: A Novel by Diane Wilson
I read The Seed Keeper—Diane Wilson's debut novel—over the course of a single weekend. I was immediately captivated by the voice of protagonist Rosalie Iron Wing and Wilson's seamless transitions between perspectives and time periods. In vast, crystal-clear prose, this novel echoes the language of trees, water, and seeds, tracing one Dakota family's story of survival, perseverance, and rediscovery. This book is truly a gift, and perfect for readers of engaging fiction, fans of multigenerational family sagas, new (and seasoned) gardeners, and anyone who looks to the land for reminders of who they are—and who they can be. —Claire, Publicist
Aviary: A Novel by Deirdre McNamer
Deirdre McNamer reveals the humanity within her characters in such an intimate and unique manner. Her characters are riddled with true-to-life contradictions and inner turmoil with their choices and the aftermath of living with them. McNamer captures the coldness and detached nature of the Montana landscape in which this story takes place while also giving breath to the incendiary nature of small-town gossip. —Milan, Marketing & Publicity Associate